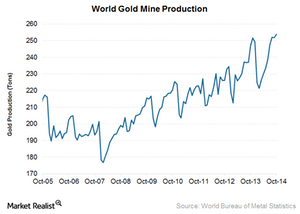 Why gold mine production is still growing
By Anuradha Garg

Nov. 27 2019, Updated 7:35 p.m. ET
Gold mine production
In the previous parts of this series, we discussed the motivation to buy gold. We looked at how it impacts gold prices. There are also supply-side factors that could influence gold prices. All else being equal, a short-term decline in mine production could persuade physical buyers to pay more for gold.
Article continues below advertisement
Increasing gold production
The World Bureau of Metal Statistics provides world mine production data monthly. The figure for September was 253.9 tons. This is slightly higher than September's production of 251.7 tons. The rate of increase, however, has moderated lately. From January to October 2014, world production was 2,379.6 tons. This is 3.4% higher than the same period last year.
Despite the fall in gold prices, production is increasing. This is mainly because most mines are long-term. It would hurt mine economics more to shut them down in the short term and restart them later. However, we're seeing a slowdown in the rate of growth of production.
Peak production
Some gold companies, including Barrick Gold (ABX), Goldcorp Inc. (GG), and Newmont Mining (NEM), are going for high-grading at some of their mines. High-grading is when the high-grade portion of the mine is mined first. This increases the grade of the mined ore. It also lowers the cost per unit. However, this trend is bad for long-term supply. It depletes reserves very quickly.
Gold companies, including Barrick Gold (ABX), AngloGold Ashanti (AU), and Agnico Eagle (AEM), have also slashed their capital and exploration spending. As a result, there aren't many new projects coming online. This will pressure gold's long-term supply.
Many industry experts, including the World Gold Council (or WGC), believe that 2014 will be the peak year for gold production.
Plateauing long-term supply
Slowing rate of production means it won't be long before supply plateaus. Lower grades will put upward pressure on costs. All-in sustaining cash costs for the first half of 2014 were $1,350 per ounce. This is above the gold price for the period. This should pressure production going forward.
This move could support gold prices and gold-backed ETFs such as the SPDR Gold Shares (GLD) and the Gold Miners Index (GDX).