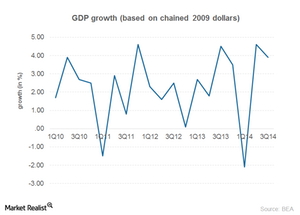 Revision of global GDP growth estimate may alert airlines
By Teresa Cederholm

Jan. 6 2015, Updated 12:30 p.m. ET
Economic growth in US
In the US, economic growth picked up in the second quarter of 2014 after slowing down in the first quarter of the year. According to the latest estimates from the Bureau of Economic Analysis (or BEA), real GDP increased at an annualized rate of 5% in 3Q14 and 4.6% in 2Q14 after declining by 2.1% in 1Q14.
The increase in GDP in 3Q14 was driven by a 3.2% increase in consumer spending and a rise in business investment. There was also an increase in federal government spending and the export of goods.
Article continues below advertisement
GDP forecast
The GDP forecast for 2014 and 2015 was revised downward to 2.2% and 2.4%, respectively, from 2.3% and 2.7% forecast last month, according to the Energy Information Agency (or EIA). This reflects an economic slowdown, which could turn out to be a concern for an industry that is sensitive to changes in economic growth. However, the upward revision to disposable income estimates and growth in corporate profits are positive for the airline industry, as these are two major drivers of leisure and business travel.
Disposable income
Real disposable personal income is estimated to have increased by 3.1% in 2Q14 and 2.3% in 3Q14. The estimate for 2014 was revised up to 2.7% from the 2.6% estimated last month, and the growth estimate for 2015 was 2.4%, according to the EIA. During times of economic prosperity, people have a higher disposable income to spend more on leisure trips. Plus, businesses make higher revenues and profits, enabling them to support higher travel expenses.
Corporate profits
Corporate profits, an important indicator of business travel, increased at a quarterly rate of 8% in 2Q14 after declining by 9.4% in the first quarter. Corporate profits increased by 3.1% quarter-on-quarter in 3Q14. Over the last 12 months, corporate profits increased by 1.4%.
The airline industry is an important contributor to the growth of the US economy. According to Airlines for America (or A4A), the industry drives $1.5 trillion in US economic activity and more than 11 million US jobs. Major US airlines contributing toward this are Delta Airlines (DAL), United Continental (UAL), American Airlines (AAL), Southwest (LUV), and JetBlue Airways (JBLU).
ETFs such as the iShares Transportation Average ETF (IYT) and the SPDR S&P Transportation ETF (XTN) hold stocks of some of these airline companies.