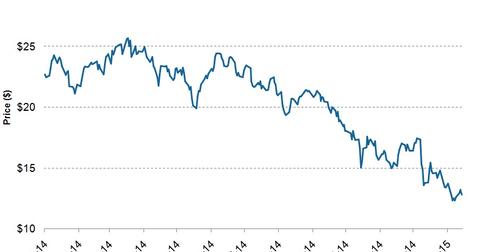 Why Germany doesn't support QE in Europe
By Surbhi Jain

Jan. 19 2015, Updated 1:06 p.m. ET
Germans against bond purchase
In 2013, certain German academicians took the ECB's (European Central Bank) proposed Outright Monetary Transactions (OMT) program to court on the ground that such bond purchase measures were outside the bank's purview. The German court upheld the view that OMTs were illegal unless certain stipulations were met. It also supported the academicians' assertion that the ECB's primary task is to set interest rates and control inflation.
Article continues below advertisement
A Eurozone issue
Since this was a pan-European (VGK) (EZU) (FEZ) (EFA) issue, the case was subsequently forwarded to the European Court of Justice (or ECJ). Member countries of the Eurozone monetary union share a single currency, the euro, despite being responsible for setting their own taxation and fiscal policies. The case touches upon several significant issues currently facing the Eurozone.
The central question of the claim the Germans made involves whether or not the ECB can use all the countries' pooled money to prop up member states that need help. Germany has been against such austerity measures since it wants its European counterparts to run their economies in a more disciplined manner.
Germany's concern
Germany (EWG) believes that such rescue missions deter distressed European economies such as Greece, Spain, and Italy from developing the ability to emerge from a financial crisis on their own. These economies have been bailed out through rescue packages offered by the troika after the sovereign debt crisis in 2009.
Five years have passed, and these economies still seem to be in perpetual need of austerity and aid, which ultimately goes out from the pool of funds with the ECB. Germany contributes the largest share to this fund.
Another concern that holds Germany back from extending support to the ECB's QE measures is the impact on its sovereign bond yields.