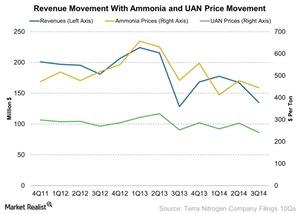 Fertilizer Prices Drive Terra Nitrogen's Revenues Into The Ground
By Adam Jones

Jan. 27 2015, Updated 12:47 p.m. ET
Impact of fertilizer prices
In the last part of this series, we saw how natural gas costs can have a significant impact on Terra Nitrogen's earnings. But, the company has costs, so it needs to generate enough revenues to cover those costs.
Terra Nitrogen earns revenues from two products—ammonia and urea ammonium nitrate solution, or UAN.  The chart below shows the average selling price of these two products along with Terra Nitrogen's revenue trend.
Article continues below advertisement
In the above chart you can see that the company's revenues are affected more by UAN prices than by ammonia prices. This is natural since about 70% of the company's revenues were generated by its UAN-based product line. Year-over-year, as of 3Q14, ammonia prices declined 7% and UAN prices declined 4%. Prices fell mainly because of an increase in fertilizer supplies from China.
Downward commodity prices put pressure on Terra Nitrogen
Urea prices declined over the past five months, which certainly affected Terra Nitrogen. In a commodity business such as this, a company is usually the "price taker," meaning it has to settle for whatever market prices have to offer. This is because the commodity is standardized, so it makes little difference if you buy from TNH or other players such as CVR Partners (UAN), Potash Corporation (POT), or Agrium (AGU), all of which are part of the VanEck Vectors Agribusiness ETF (MOO). Naturally, if the prices drop, the company will see an impact on its revenues.
But if you look at the above chart, prices are not the only determinant driving revenues. It's equally important to look at volumes, which are driven by demand. This brings us to Terra Nitrogen's production volumes, which we'll look at next.