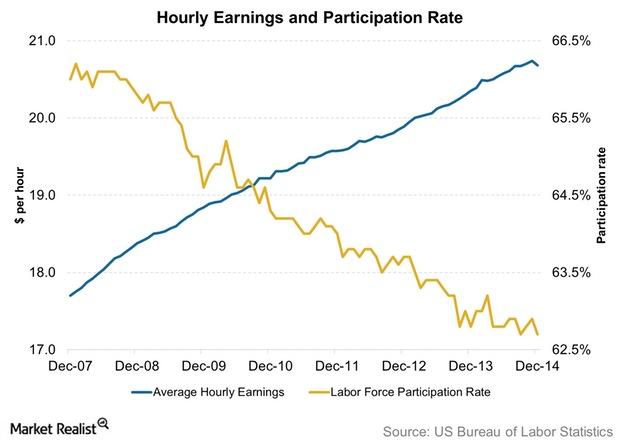 The Fed calls job gains 'strong,' not 'solid'
By David Ashworth

Aug. 18 2020, Updated 6:19 a.m. ET
Dual mandate
The Federal Reserve has a dual mandate to deliver "maximum employment and price stability." It conducts monetary policy with these objectives in mind.
The jobs market is looking good. As of December 2014, the unemployment rate was down to 5.6%, and the number of unemployed people had fallen to 8.7 million.
Industrials and materials, and related ETFs such as the SPDR Industrial Select Sector Fund (XLI) and the iShares U.S. Home Construction ETF (ITB), are positively affected if job numbers surprise on the upside.
Article continues below advertisement
So why would the Fed call job gains "strong" rather than "solid," which is how it described the same metric in December 2014? Because non-farm payroll additions and the unemployment rate aren't the only measures that the Fed looks at, that's why. Two other measures are also important—the labor force participation rate and average hourly wage growth.
Labor force participation rate
The labor force participation rate can indicate slack in the labor market. Underutilization in the work force can refer to people who would prefer to work full-time but are forced to work part-time due to economic reasons, and to people who completely exit the workforce due to poor job market conditions. In December 2014, labor force participation came down 0.2% from a month ago, to 62.7%.
This assumes significance because it means that many people are staying away from the job market. The unemployment rate reading could actually be positively skewed. An improvement in job market conditions should bring some people back to the employment market. This would increase the labor force participation rate. At the same time, if an insufficient number of jobs were created, it would also increase the unemployment rate.
Wage growth
Though the Fed didn't mention wage growth in its statement, it remains a concern. An improving job market is expected to increase wages, as employees are able to negotiate because other jobs are out there. Yet, in December 2014, average hourly earnings decreased by 5 cents from November. This decrease surprised markets and policymakers alike. Though markets are considering this fall a one-off, policymakers are watching wage growth closely.
Low wage growth will negatively affect consumer spending and related stocks like Proctor & Gamble (PG) and Wal-Mart Stores (WMT). It will also affect related ETFs (XLY) (XLP).
At the end of the day, low wage growth can translate into lower economic growth. That's likely why the FOMC described job gains as "strong" and not "solid."