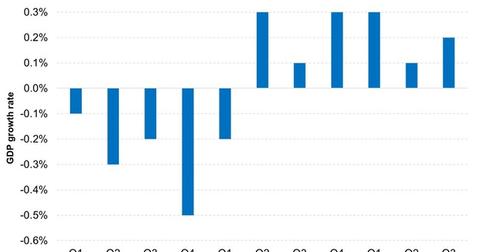 Faltering Growth In Europe Leads To Monetary Stimulus
By Russ Koesterich, CFA

Jan. 28 2015, Published 3:57 p.m. ET
Many investors concerned about the situation in Europe are searching for investments that tend to hold value. But these traditional "flight-to-safety" destinations have high opportunity costs. Russ explains why investors may consider instead a group of investments with higher risk that might still generate yield.
Many investors concerned about the situation in Europe are searching for safe-haven investments. Unfortunately, they are rapidly running out of choices.
Article continues below advertisement
Market Realist – As growth in Europe nosedived, the European Central Bank resorted to monetary aid.
The graph above shows quarter-over-quarter (or QoQ) GDP growth in Europe (EZU) since 2012. Many recent economic indicators point to a further slowdown in Europe, which has affected global markets (QWLD).
However, the ECB (European Central Bank) declared a monetary stimulus plan on January 22 that will pump $1.3 trillion into the European economy by September 2016 to boost the economy. Although this is good news, it will take some time for the initiative to start affecting growth.
However, some analysts are against quantitative easing (or QE), citing that it creates excessive inflation and artificially inflates asset prices and currencies, among other effects. For example, QE in the US had supported risky assets like equities (SPY)(IVV) and junk bonds (HYG).
Membership in the club of AAA-rated countries is rapidly shrinking, and rising correlations mean that, at least in the short term, virtually all risky assets are moving together. While there are still a few places to hide, I believe the "safety" of some of the "traditional" safe-haven investments comes at a cost. For this reason, I'm advocating that investors consider a group of assets I'm calling the "semi-safe havens" – investments that don't fall under the classic definition of safe havens because they tend to have a higher risk profile.