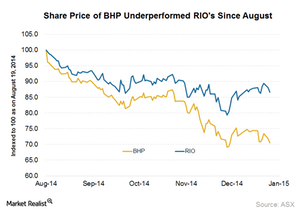 Fall in crude oil prices impacts BHP and Rio Tinto differently
By Anuradha Garg

Nov. 20 2019, Updated 1:48 p.m. ET
The impact of falling crude oil prices
Iron ore and crude oil were the worst performing commodities of 2014. Both are down to more than five-year lows, losing close to half their value since the start of 2014.
Brent crude oil is trading at $49 per barrel compared to $114 per barrel in June 2014. WTI (West Texas Intermediate) crude oil is trading at $47 compared to $106 per barrel in June 2014.
Article continues below advertisement
Impact on companies
Iron ore companies engaged in seaborne trade are greatly impacted by any significant fall in crude oil prices since shipping rates are impacted by oil prices.
Companies also have energy cost as one of their cost components. A fall in crude oil prices leads to savings on this component as well. As such, Rio Tinto (RIO) will positively benefit from falling crude oil prices due to savings on raw material costs and freight costs.
On the other hand, it's like a double-edged sword for BHP Billiton (BHP). The company is exposed to oil prices both ways. Close to 22% of its earnings are tied to its petroleum division, and any significant fall will lead to losses there.
BHP Billiton underperforms Rio Tinto
This is the main reason why BHP Billiton (BHP) has underperformed Rio Tinto (RIO) since August 2014. While BHP is down 29.5% since August 2014, Rio is down only 13.5%. One additional significant reason that BHP is underperforming Rio is because the market is strongly expecting capital management initiatives from Rio in its February 2014 results, whereas BHP's management has shown no such intention.
Overall, falling oil prices will positively impact iron ore players, including Vale S.A. (VALE) and Cliffs Natural Resources (CLF).
The SPDR S&P Metals and Mining ETF (XME) is an efficient way to get exposure to this sector without having to pick individual companies.