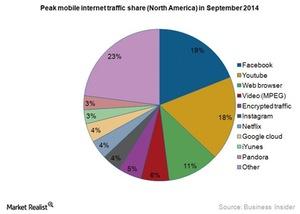 Facebook tries to grab some of YouTube's video ad share
By Patricia Garner

Nov. 20 2020, Updated 3:30 p.m. ET
Facebook's share in the video ad market
Facebook's (FB) direct video uploads and autoplay video ads are garnering lot of attention from viewers as well as advertisers. On January 8, 2015, FB acquired video compression company QuickFire Networks in an effort to get its users to upload videos directly to its site instead of linking to videos on other sites like Google's (GOOG)(GOOGL) YouTube.
Facebook is not only growing its monthly active users aggressively but also beating its competitors in user engagement numbers. The company is taking advantage of this trend. Facebook believes that the more time users spend on social platforms, the more they can target advertisers. As a result, social sites can serve large numbers of ads across any demographic segment. Consequently, Facebook can charge advertisers higher advertising prices.
Facebook has always focused on quick-playing videos, especially on mobile phones. QuickFire helps speed up the process of uploading and downloading videos. Read more about Facebook's initiatives in the video ad space.
Article continues below advertisement
Facebook took away some of Google's YouTube share
According to a report from the Wall Street Journal, among the recent campaigns that aired on Facebook, holiday ads for the British department store John Lewis, which were shared 200,000 times in 24 hours, and a Heineken ad featuring Neil Patrick Harris, generated 6 million views on Facebook. The same ads had over 20 million views on YouTube.
It's very interesting to note here that, while Google's (GOOG)(GOOGL) YouTube still dominates the market in terms of number of views, Facebook is slowly taking away some of YouTube's business. Compared to previous years, when Facebook ads didn't even exist, it's notable that they're now they are slicing off YouTube's share.
According to Business Insider, more than a quarter of all Internet traffic now comes from smartphones and tablets, and two big Internet companies contribute a huge amount of that traffic.
Based on the report from BI Intelligence, Facebook and YouTube accounted for nearly 40% of all mobile web traffic in North America in September. Ads make up a big percentage of Facebook's and YouTube's mobile traffic. Autoplay video ads increase mobile data demand on these social networks.
Facebook accounted for 19% of that aggregate mobile traffic. YouTube was just behind with 18%, and the third-largest share belonged to "general web traffic" through web browsers, at 11%.
To gain portfolio exposure to Facebook, you can consider exchange-traded funds (or ETFs) such as the Technology Select Sector SPDR ETF (XLK)—where FB has a weightage of 4%—and the PowerShares QQQ Trust, Series 1 (QQQ), with an FB weightage of 3.60%.