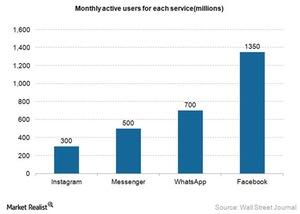 Facebook plans to introduce a voice-to-text feature on Messenger
Facebook is testing a voice-to-text feature on Messenger
Facebook's (FB) Messenger already offers a feature that let people send voice clips to their friends without having to type out the text. David Marcus, vice president of messaging products at Facebook, said in a post that Facebook is testing a feature to help people read the voice clips they receive instead of having to play them out loud. This is really useful if someone is at a concert or in a meeting and would prefer to read a voice clip from a friend.
Article continues below advertisement
At a Digital-Life-Design conference in Munich, Marcus said there's an ambitious roadmap for Messenger in 2015. The service has more than 500 million monthly active users. Marcus said he expects voice-to-text transcription to be popular in Asia, since typing in some Asian languages is difficult. Read more about David Marcus, ex PayPal executive, and his plans for messenger.
Marcus also mentioned that the company is looking for ways to generate revenue from Messenger, but he doesn't want to invade the user's experience with advertising. The plan is to use a sponsored content approach, the Wall Street Journal reported.
Earlier this month, Facebook acquired 18-month-old speech recognition start up Wit.ai. It allows developers to build speech recognition and voice control capability into their products by simply adding a few short lines of code.
Wit.ai in its blog post said, "Facebook's mission is to connect everyone and build amazing experiences for the over 1.3 billion people on the platform — technology that understands natural language is a big part of that, and we think we can help".
As the chart above shows, the monthly active users on Messenger are still fewer than WhatsApp's or Facebook itself's. As per Facebook, Messenger has about 500 million monthly active users, compared to 700 million for WhatsApp and 1.35 billion for Facebook.
As Forbes stated in a report, Facebook's voice-to-text feature works similarly to Google Voice (GOOG)(GOOGL). Google Voice turns voicemail messages into text and sends it to users' inbox. Facebook's Messenger, just like Google Voice transcriptions, has plenty of room for improvement.
To gain portfolio exposure to Facebook, you can consider exchange-traded funds (or ETFs) such as the Technology Select Sector SPDR ETF (XLK), where FB has weightage of 4%, and the PowerShares QQQ Trust, Series 1 (QQQ), with an FB weightage of 3.60%.