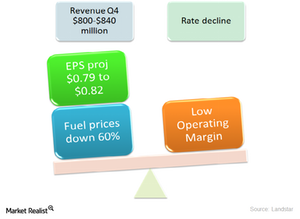 What to expect from Landstar in the future
By Ally Schmidt

Updated
Economy signals growth
The US economy showed signs of robust growth signals in 2014. The economy grew, the GDP rose, and oil prices dropped by almost 60% from the previous year. This set of circumstances created a win-win situation for the trucking industry as they prepare to finally see good numbers after a long lull.
Throughout the year, Landstar (LSTR) and many of the company's key competitors such as J.B. Hunt Transport Services (JBHT), Werner Enterprises (WERN), and Swift Transportation Co. (SWFT) experienced healthy growth in freight demand. Plus, strong transactional business and constrained truckload-industry capacity materially boosted the overall pricing power for all companies. Some of these companies are part of the First Trust Industrials/Producer Durables AlphaDEX Fund (FXR).
Also, the truck brokerage industry is expected to expand faster than the transportation market, driven by share gains from asset-based carriers and incremental logistics outsourcing among small and midsize shippers.
Article continues below advertisement
Strong performance
Landstar showed strong growth in all the three quarters reported for 2014. The company's revenue, net income, margin, and earnings all reached record numbers in the last quarter. Its trucking revenue-per-load expanded 9% during the first nine months of 2014 and was up 13% year-over-year in October, in contrast to a 2% contraction seen in 2013.
Improved guidance
Landstar's strong performance has positioned the company to take full advantage of the recovering trucking market. The firm upgraded its fourth-quarter guidance for 2014 and now expects fourth-quarter revenue to range from $820 million–$840 million (up from $800 million–$840 million previously). Landstar's EPS (or earnings per share) of $0.79–$0.82 was adjusted from its previous range of $0.77–$0.82.
The company also announced it will pay a $1 per share special dividend on January 26, 2015, allowing investors to anticipate strong numbers from Landstar in the future. Landstar System expects to see higher-than-expected top-line growth and pose stronger numbers due to its increasing network of BCOs and third-party carriers.