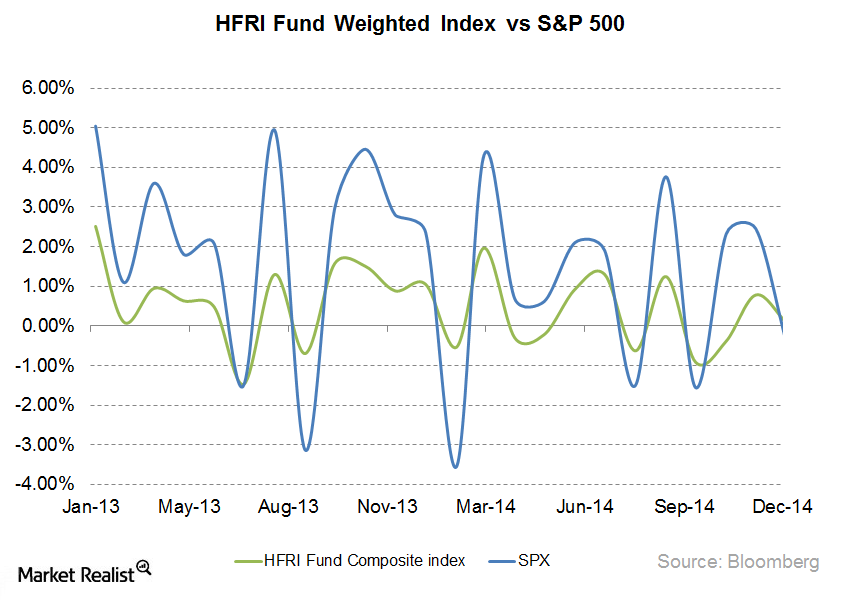 Event-driven strategies have proved expensive
By Santiago Solari

Jan. 16 2015, Updated 2:32 p.m. ET
Hedge funds lag in the overall market
The year 2014 was harsh for hedge funds in general. According to eVestment, the aggregate hedge fund performance was an annual return of 2.48% in 2014, which pales in comparison to its 10.19% return the prior year. The HFRI (Hedge Fund Research, Inc.) fund-weighted composite index, which includes more than 2,000 funds, provided an annual return of 3.33% in 2014 compared to 9.3% in 2013. According to data compiled by eVestment, 2014 was the worst year since 2001 for the hedge fund industry, which trailed the S&P 500 and the Dow Jones Industrial Average returns of 11.4% and 7.5%, respectively.
Article continues below advertisement
Credit-focused funds recorded their worst year since 2008 with an annual return of 0.55% after going through a 1.69% decline in December. However, a few big names did manage to generate attractive returns amid a low interest–rate environment and falling oil prices. Bill Ackman's Pershing Square Capital Management led the pack with 35% return net of fees. Larry Robbins' Glenview Capital Management gained 12%.
Event-driven strategies prove costly
John Paulson's funds featured at the bottom of the hedge fund pack in 2014 with a reported decline of nearly 24%. The Advantage Plus Fund, known for its event-driven strategies, plummeted 36% in 2014 according to two sources with knowledge of the fund's performance.
The event-driven strategy entails making use of leverage to invest in debt securities of distressed firms or companies going through a spinoff. Investing in funds that are expected to default soon poses the highest liquidity risk among all other hedge fund strategies since it's hard to find a suitable counterparty when there's a need to exit the position.
Article continues below advertisement
Paulson's bets on preferred shares of Fannie Mae (FNMA) and Freddie Mac (FMCC) failed to crystallize since a judge ruled that government-sponsored entities don't have to share their earnings with private shareholders. The advantage fund, which is also event-driven but doesn't make use of leverage, performed in a similar way with a reported 29% decline in 2014.
Energy bets took a toll
According to Paulson & Co.'s third-quarter 13F filings, approximately 10% of its $24.1-billion equity holdings was in energy stocks. Paulson & Co. had amassed a 7.9% stake in Whiting Petroleum (WLL), its largest shareholder. It also had a 9.8% stake in Oasis Petroleum (OAS) and 10% in Cobalt International Energy (CIE). The stocks of these companies have been on a free fall since August 2014 as oil prices have slumped. The energy bets together with the court ruling might prove to be decisive blows for the performance of advantage plus and advantage funds.
Paulson's merger arbitrage fund was hurt after AbbVie (ABBV) decided to walk away from its proposed $55-billion acquisition of Shire Plc (SHPG) in October 2014 and ended the year 0.8% up.