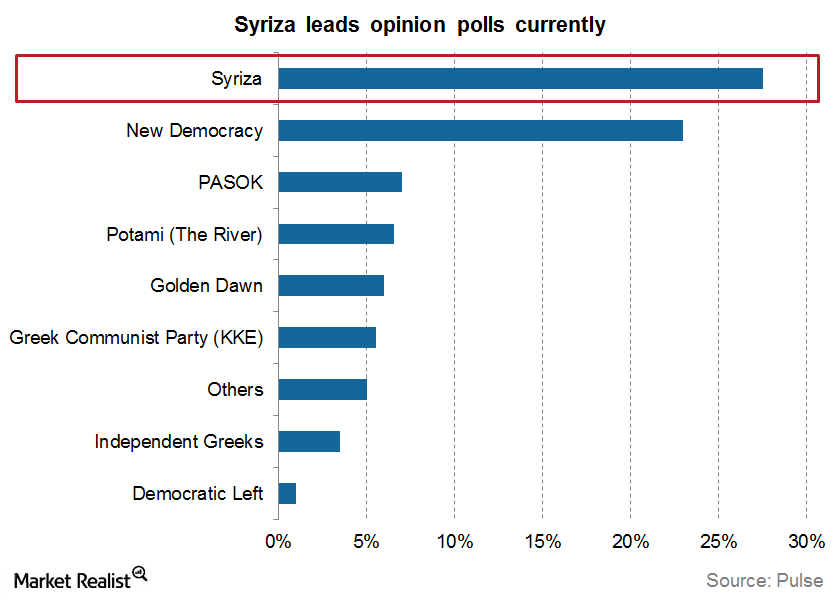 Why European Politics Are Likely To Take Center Stage in 2015
By Russ Koesterich, CFA

Dec. 4 2020, Updated 10:53 a.m. ET
European politics will matter in 2015 
After a year with relatively less drama, European politics are likely to return to center stage next year. In addition to the fragility of the Greek coalition, several European countries are facing similar challenges. As Podemos in Spain (EWP) and the National Front in France rise alongside a resurgent Northern League in Italy (EWI), formerly non-mainstream parties are gaining wider support with their populist platform and in some cases, extreme skepticism concerning the European Union and the common currency. Greece may represent the near-term threat, but other countries could add to the angst in 2015.
Article continues below advertisement
Market Realist – Let's try to understand why Greece's (GREK) political instability could throw European politics out of whack. The party leading opinion polls is Syriza, a far-left party against the austerity measures that brought back the Greek economy from the brink in 2010. The results of the opinion poll by Pulse in November 2014 are shown in the previous graph.
Market Realist – In 2010, the troika of the European Commission, the European Central Bank, and the International Monetary Fund provided bailout loans and rolled out an extreme austerity program that involved increase in taxes, cutting down public spending and fall in wage rates. Though the austerity program helped in stabilizing the floundering Greek financial system and reducing the budget and current account deficit, the economy itself suffered. You can see the current account to GDP ratios in the previous graph.
Market Realist – The GDP has fallen by almost 25%, while the debt-to-GDP ratio still stands alarmingly high, at 174.9%, as you can see in the graph above. According to a Parliamentary Budget Office report, 2.5 million Greeks are currently below the poverty line, while 3.8 million more are facing the an imminent risk of sinking below the poverty line. The unemployment rate has risen from around 7.7% in 2008 to around 26% currently. The state of the economy has created unrest among the people of Greece, and many are in favor of exiting the European Union and abandoning the euro for the Drachma. In this environment, Syriza, an anti-austerity party, has fast gained popularity.
Syriza aims to renegotiate the austerity programs so that debt can be paid off using economic growth instead of budgetary cuts. The possibility of a "Grexit" from the European Union (EZU) looms large. This may set off a contagion in the already struggling European economy and cause a partial breakup of the Eurozone.
The possibility of a Greek exit could rattle not just European politics but also the US (SPY) and other global markets (QWLD) at large.