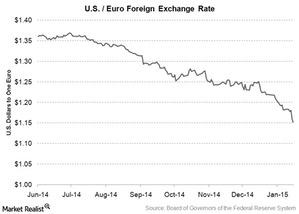 The euro has been losing value against the US dollar
By Surbhi Jain

Updated
A falling exchange rate indicates the declining value of the euro
In its simplest form, currency exchange rates are the price of a nation's currency in terms of another currency. The Eurozone is a monetary union. All its members have adopted the euro as their currency. For this reason, any major political or economic upheaval in any of the member countries tends to weigh upon the exchange rate for the euro.
Article continues below advertisement
The euro has been sliding against the US dollar
Over the last six months, the euro has been sliding against the US dollar. The currency has been losing value on account of a growing fear among investors with respect to the Eurozone's future. For the most part of 2014, the Eurozone had been stuck in an economic quagmire, with the markets waiting for authorities to take much-needed corrective measures to revive economic growth in the region.
The performance of exchange-traded funds such as the Vanguard FTSE Europe ETF (VGK), the iShares MSCI EMU Index Fund (EZU), the iShares S&P Europe 350 Index Fund (IEV), the Wisdomtree International Hedged Equity Fund (HEDJ), and the SPDR DJ euro STOXX 50 ETF (FEZ) is a good gauge of economic growth in the Eurozone.
Macroeconomic variables affect currency exchange rates
Currency exchange rates also tend to be affected by macroeconomic variables, including major economic indicator releases like those we've discussed throughout this series. They're also affected by relevant changes in world commodity prices—like oil. Money supply–influencing monetary policy decisions by a central bank also have a direct bearing on the currency exchange rate for that economy. Find out more in the next part of this series.