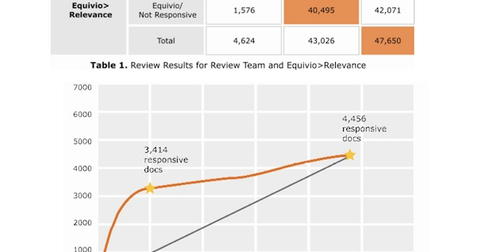 Equivio is Microsoft's first acquisition in 2015
By Anne Shields

Updated
Microsoft acquires Equivio
On January 20, 2015, Microsoft (MSFT) announced that it will acquire Equivio in 2015. This is the company's first acquisition in 2015. Equivio is based Israel. It's an eDiscovery or compliance vendor that specializes in text analysis. It hasn't been disclosed how much the acquisition cost Microsoft.
Microsoft is sprucing up its position in the technology space. IBM and Google are present in the technology space. IBM (IBM) has Watson. Google (GOOG) (GOOGL) has its large-scale data management through analytics.
If Microsoft's acquisition of Equivio is able to generate synergies, it will benefit Microsoft investors. It will also benefit ETFs—like the Powershares QQQ Trust ETF (QQQ) and the Technology Select Sector SPDR Fund (XLK)—that have high exposure to Microsoft.
The above graph shows the results of a recent case study. Equivio often found thousands more documents than what were initially discovered by the review team.
Article continues below advertisement
What's Equivio?
Equivio's main product is Zoom. Zoom is a "court-approved machine learning platform" for the legal market. Equivio developed text analysis software that's capable of attaching various related texts from a collection of documents—like emails and various types of documents.
Equivio's own developed algorithm can scan through documents and emails. It groups related documents. It identifies the documents that might trigger a company's confidentiality provisions or other legal labels.
With email and computers facilitating an explosion in the amount of documents that companies and governments produce, sorting through these documents can quickly turn into a task that takes employees many hours.
How will the acquisition benefit Microsoft?
According to Microsoft's corporate vice president, Rajesh Jha, "Businesses and governments around the world generate enormous volumes of data every day. Sifting through that data to find what is relevant to a legal or compliance matter is costly and time consuming. We are making this acquisition to help our customers tackle the legal and compliance challenges inherent in managing large quantities of email and documents."
Equivio's machine-learning expertise is one of the key reasons behind the acquisition. The machine learning will make filtering through emails and documents for relevant information—pertaining to legal or compliance matters—a faster and uncomplicated process.
In 2014, Microsoft launched Office Graph. It's a machine-learning technology that maps relationships between people, content, and activity across Office 365 accounts.