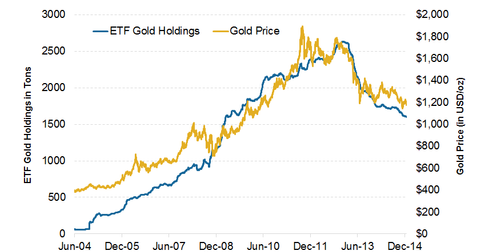 What dwindling ETF holdings mean for gold prices
By Anuradha Garg

Updated
Monitoring ETF holdings             
Monitoring ETFs is important for investors because ETFs are very large holders of physical gold. Outflows from ETFs led to an approximate 28% fall in gold prices in 2013, selling a combined 881 tons of gold. So investors should keep an eye on any sustained buying or selling in gold-backed ETFs.
Article continues below advertisement
Falling ETF holdings
There are 14 known gold ETF holdings. These include the SPDR Gold Shares (GLD), the largest physical gold-backed ETF. Global ETFs backed by physical gold saw outflows of 15 tons in the first 26 days of December. We already saw outflows of 33 tons and 31 tons of gold in October and November, respectively.
Total holdings were 1,600 tons as of December 26. Gold ETF holdings have fallen to a fresh five-year low. Recent outflows suggest that investors might be moving into other risky assets such as equities since US economic prospects have started looking up.