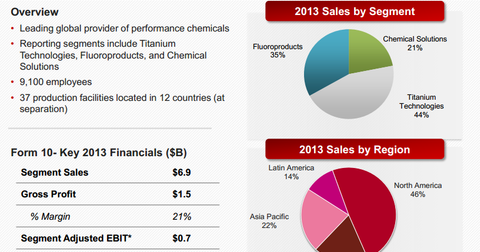 DuPont's Performance Chemicals spinoff is on track
By Samantha Nielson

Jan. 22 2015, Updated 4:33 p.m. ET
Trian believes a separation will improve operational performance
Trian Fund Management said in September last year that it wants to separate E.I. du Pont de Nemours and Company (or DuPont) (DD) into GrowthCo (Agriculture, Nutrition & Health, Industrial Biosciences) and CyclicalCo/CashCo (Performance Materials, Safety & Protection, Electronics & Communications). This was in addition to the announced Performance Chemicals spinoff.
The fund expects this separation to eliminate DuPont's significant operational performance gap when compared to its peers. Trian provided examples of portfolio improvements at some of DuPont's peers, including PPG Industries (PPG) and Rockwood Holdings (ROC), that have enhanced total shareholder returns. DuPont and PPG Industries are part of the iShares U.S. Basic Materials ETF (IYM) and the Materials Select Sector SPDR Fund (XLB).
Article continues below advertisement
The Chemours Company expected by mid-2015
In October 2013, DuPont (DD) told its shareholders that it intends to separate its Performance Chemicals segment through a US tax-free spinoff. A registration statement that DuPont filed with the SEC (U.S. Securities and Exchange Commission) in December 2014 noted that the spinoff company will be named The Chemours Company. It will be comprised of these three DuPont segments: Chemical Solutions, Fluoroproducts, and Titanium Technologies. Chemours will have approximately 9,100 employees and 37 production facilities in 12 countries. It will serve more than 5,000 customers worldwide.
The Performance Chemicals segment's main products include a broad line of DuPont Ti-Pure titanium dioxide (or TiO2) products. The segment also includes industrial and specialty fluorochemicals and fluoropolymer brands such as Teflon. Chemours' largest segment will be Titanium Technologies, which will account for 44% of the new company's sales. Fluoroproducts will represent 35% of sales, and Chemical Solutions will account for 21%.
Article continues below advertisement
Performance Chemicals segment sales down 6%
Market Realist reported last year that sales of DuPont's Performance Chemicals segment declined due to the volatility in titanium dioxide prices. Titanium dioxide is a white pigment used in cosmetics, coatings, paper, plastics, toothpaste, sunscreen, paint, and other products. DuPont is the largest TiO2 producer worldwide, with about a fifth of the market share.
DuPont said in October that year-to-date, Chemicals Segment sales of $4.9 billion fell 6% on lower prices mainly for refrigerants, titanium dioxide, and fluoroproducts.
Trian Fund Management said in a recent statement that DuPont's decision to spin off its Performance Chemicals segment into Chemours "with poor corporate governance and punitive anti-takeover measures shows a disconnect from stockholders." It added that it "believes it is time for new perspectives and robust oversight from the DuPont board."
In the next part of this series, we'll talk about Trian Fund Management's move to shake up DuPont's board.