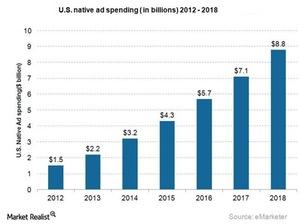 Why display advertising is still a challenge for Yahoo
By Patricia Garner

Nov. 20 2020, Updated 4:47 p.m. ET
Yahoo's display advertising business
In the last part of this series, we discussed how Yahoo's (YHOO) search advertising business performed in 3Q14. However, Yahoo's other core business area is the display advertising business. It hasn't been performing well.
In 3Q14, the revenue for Yahoo's display advertising business declined by 6% year-over-year, or YoY. Yahoo achieved a 24% YoY increase in the number of ads sold in the third quarter. It was driven by the increase in mobile user engagement. However, the ads' pricing declined by 24%. Yahoo believes that the pricing strategy can be improved later. It plans to build the demand and value first.
Article continues below advertisement
Yahoo blamed traditional PC advertising
On the earnings call, Yahoo's management noted that legacy PC advertising created a drag of $60 million or more per quarter on Yahoo's overall business. Traditional PC advertising is part of advertising. It's declining across the industry.
Shift to native ads
Now, 44% of Yahoo's display ads are native ads and its material. Native ads have been experiencing triple-digit YoY growth. In the fourth quarter, the company expects that native ads will approach $80 million in revenue. Yahoo transformed to native ads because the traditional PC display didn't work well on mobile.
As the above graph shows, according to eMarketer, US native ad spending is increasing at a progressive rate. It's expected to reach $8.8 billion in 2018.
Article continues below advertisement
Marketers cited various benefits of using native advertising. One benefit is its ability to drive viewers to owned media. Another benefit is its unusual ability to generate interaction and win consumers' attention. There are numerous challenges associated with it in terms of execution, scalability, and measurement. However, marketers still believe that native ad spending will continue to rise over the next few years.
According to a report from eMarketer, Facebook (FB) saw a 51% increase in net US digital display ad revenue in 2013. The increase was due to strong mobile ad revenue. Google (GOOG) (GOOGL) witnessed a 33% growth rate. Even though Google remains an undisputed leader in the display ad market, Facebook's growth rate is pretty impressive. It's gaining traction. To learn more, read Facebook is growing its display ad revenues much faster than Google.
Besides these two players, Amazon (AMZN) and AOL (AOL) are also making their moves in the display ad market. Amazon is experimenting with its new ad formats by including videos into its ads. AOL's growth is driven by renewed ad pricing and the acquisition of Adap.tv—a video ad platform.
Yahoo's growth rate isn't very remarkable. However, with its recent acquisitions, the company wants to improve its growth rate.