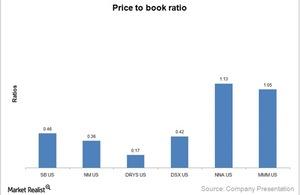 Despite dividends, Navios is still unattractive to many investors
NMM dividend
Navios Maritime Partners (NMM) was trading at $18.62 in the beginning of 2014, while currently it has recorded a dip of 41.4% to trade at $11.21. Dividend yield for the company currently stands at 15.8% with the company recently paying a dividend of $0.4425 per common unit. The company believes that it has secured its dividend payouts.
Investors consider a dividend to be positive when the company has the ability to pay it on a longer term and when it is higher than the company's earnings. In the latest quarter, NMM earned only $0.16 per share, and more than half of that $0.37 per share was in the form of an insurance settlement rather than from operations. Navios Maritime has only committed to pay out minimum distributions of $1.77 per unit through the end of 2015.
Article continues below advertisement
Uncertain future
Navios Maritime Partners' stock will likely drop in the upcoming quarters. Also, many of the company's contracts are close to maturing, while a few contracts are priced higher than the current rates, which could lead to a risk in earnings recovery.
Adjusted net income estimates for fourth quarter 2014 stand at $16.3 million, as compared to $10.1 million in the corresponding periods last year. EBITDA is estimated at $43.1 million in the fourth quarter of 2014 compared to $36.3 million recorded in the year-ago quarter.
Based on the facts above, the company's dividend paying capabilities are likely to be jeopardized. Thus, from an investor's standpoint, Navios Maritime Partners may not be a safe income stream for stable quarterly dividend payouts.