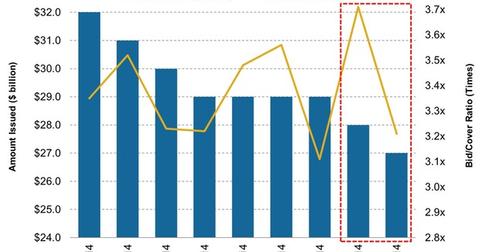 Demand was weak at the 2-year Treasury notes auction
By David Ashworth

Updated
Two-year Treasury notes auction
The US Treasury holds monthly auctions for two-year Treasury notes, or T-notes. Two-year T-notes have the shortest maturity. Auctions for two-year T-notes provide signals about market expectations for short-term rate movements.
ETFs—like the iShares 1-3 Years Treasury Bond Fund (SHY)—have holdings in two-year T-notes. Like other auctions, they're watched by stock (DIA) and bond (BND) investors.
Article continues below advertisement
Key takeaways
The auction size was set at $27 billion for December 22—$1 billion lower than November's quantum.
The issue's coupon rate was higher at 0.625%—compared to 0.5% in November.
The high yield for September's auction was higher at 0.703%—compared to ~0.542% in November.
Auction sees weak bidding
Demand for the two-year T-notes was weak. The bid-to-cover ratio fell 13.5% to 3.2x in December. The bid-to-cover ratio is an important demand indicator. It's the total value of bids received divided by the value of securities on offer. A higher ratio implies higher demand and vice versa. The ratio averaged 3.4x in all of the auctions held in 2014.
Market demand was nearly the same as in November. It was 50.2% of the competitive accepted bids—compared to ~52% in November's auction. Direct and indirect bidder allotments fell marginally. Indirect bidders—a category that includes foreign central banks—accounted for 35.6% of the bids. Indirect bidders were down from ~35.8% last month.
Direct bids decreased sharper. They fell from 16.2% to 14.5% month-over-month. Direct bids include bids from domestic money managers—for example, AIG (AIG). AIG is part of the SPDR S&P 500 ETF (SPY).
Dealer takedown was higher
Primary dealer takedown was higher due to lower market demand. It was 49.8% of competitive accepted bids—up from 48% in November's auction. Primary dealers act as market makers for the auctioned securities. They're required to bid at auctions. They include financial institutions like Goldman Sachs & Co. (GS). A lower percentage of dealer accepted bids implies higher market demand and vice versa.