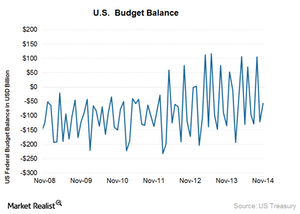 A decrease in the US budget deficit affects gold stocks
By Anuradha Garg

Updated
What's the budget balance?
The budget balance is the difference between what a country's government earns from taxes and other sources and what it spends. A budget deficit occurs when spending exceeds earnings.
When spending exceeds earnings, the government borrows money from its citizens. It also borrows money from foreign entities. As this debt continues to accumulate, it's possible that the value of its currency will decrease. The currency decreases because of fears within the international community. Other countries question the country's ability to repay the debt.
Tracking the federal budget balance
The U.S. Treasury reports the federal budget balance monthly. The US government ran a deficit $56.8 billion in November compared to $121.7 billion in October and $135 billion in November 2013. This is a decline of 58% year-over-year. A Treasury official said the November deficit would have been $92 billion if not for the calendar adjustments.
The US government's budget year runs from October through September. For the fiscal year to date, the deficit is $179 billion, which is 21% lower year-over-year. Government finances have improved along with an improving economy, and deficits have shrunk from the peak of $1.4 trillion in 2009. The shortfall for fiscal year 2014 was $483 billion, the lowest of Barack Obama's tenure as president. The Congressional Budget Office expects the deficit to shrink again in the current fiscal year.
The budget deficit's impact on US debt
The deficits continue to accumulate. They keep adding to the US federal debt. The federal debt has exploded since 2008, but the situation is getting better. This should be positive for the US dollar. A strengthening US dollar usually leads to weaker gold prices.
This is negative for gold-backed ETFs such as the SPDR Gold Shares (GLD). The deficit is also negative for stocks such as Goldcorp Inc. (GG), Barrick Gold Corp. (ABX), Newmont Mining Corporation (NEM), and Kinross Gold Corporation (KGC). It also hurts ETFs that invest in the above stocks, such as the Gold Miners Index (GDX).