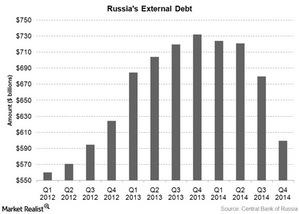 A declining ruble exacerbates Russia's banking woes
By Surbhi Jain

Dec. 4 2020, Updated 10:52 a.m. ET
The problems with Russia's banking system
The problems in the Russian banking system add to Russia's list of economic woes. We've touched on Russia's (RSX) (ESR) banking woes in a previously published article, Russian banks try to recapitalize due to low international reserves.
Having been shut out of international financing due to sanctions imposed by the West, Russia's largest banks—such as VTB Bank OAO, Gazprombank (OGZPY), and the Russian Agricultural Bank—are now looking to the state fund to help them meet demand for loans.
The VanEck Vectors Russia ETF (RSX) invests in VTB Bank OAO and Gazprom. It also invests in major Russian oil companies including Lukoil (LUKOY), Surgutneftegas OJSC (SGTZY), OAO Tatneft (OAOFY), and OJSC Rosneft Oil.
Article continues below advertisement
External debt adds to Russia's banking woes
Russia has a fair amount of external debt on its balance sheet—$599.5 billion in the fourth quarter of 2014. Around 70% of the external debt held by Russian banks is dollar denominated, which is where the problem lies. What this means is that, given the current slide of the Russian ruble, the value of Russia's external debt is becoming inflated. For example, while 35 rubles—converted to dollars—were enough to pay off every $1 of external debt six months ago, the economy now needs more than 68 rubles to pay off every $1. With the ruble continuing its slide against major currencies, this bill is getting even bigger.
In December 2014, the Russian government had to inject as much as $2.4 billion into Russian financial institutions such as VTB and Gazprombank (OGZPY) to bail them out. The banks' capital crunch situations were that dire. With the capital situation only worsening in Russia, the Russian government may need to pump in a further $40 billion this year to rescue other players in the financial system.
Will Russia be able to meet its maturing liabilities?
As oil revenues tank and the Russian ruble continues to depreciate, banks in Russia may find it increasingly difficult to meet maturing international liabilities, or loans. The larger institutions that have state support to plug the funding gap may not have an insurmountable problem. But, for smaller banks in Russia, this could prove to be the death knell.
Deterioration in asset quality is likely to emerge as another big issue. As a Standard & Poor's release stated, "We anticipate that asset quality in the financial system will deteriorate given the weaker ruble, restricted access of key areas of the economy to international capital markets due to sanctions; and economic recession in 2015."