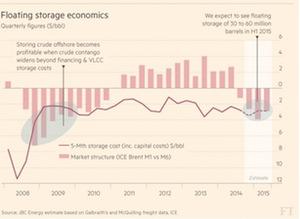 Crude oil contango and offshore storage
By Katie Dale

Updated
Factors driving storage
The lower oil price not only benefits crude tankers from a cost side, it's also expected to support rates over the medium term. As oil prices fall, commodity traders have started hiring super tankers to profit from storing crude oil at sea. According to shipping sources, oil giant Shell and energy traders Vitol and Trafigura recently booked tankers for up to 12 months. Industry sources reveal that Vitol, the world's largest independent oil trader, is believed to have booked the TI Oceania Ultra Large Crude Carrier, one of the biggest oceangoing vessels in the world.
Article continues below advertisement
Contango
Industry experts believe that this situation is similar to 2009, when oil speculators adopted storage and pushed oil prices higher. However, the current situation is based on contango, a situation in which spot or current prices fall below the price of oil for delivery in the futures market.
Traders can currently buy a barrel of Brent oil for less than $51, while a barrel for delivery in August is going for more than $57—a contango of more than $6. Analysts believe the contango needs to be about $6.50 a barrel to cover associated costs such as tanker hire, finance, and insurance, and to offer traders a profit on offshore storage.
Looking ahead
At current price levels, the International Energy Agency expects up to 300 million barrels of crude to be put into storage. This compares to 100 million barrels of crude stored in 2008, when there was a contango market. This includes onshore and offshore, and it could include between 30–60 million barrels of crude stored in tankers in the first half of 2015.
Article continues below advertisement
Effect on companies
The drastic drop in crude oil prices created a situation in which the price of near-term crude is cheaper than the price of long-term crude. Some companies that adopt storage of oil may benefit contango, although it would not impact other companies for whom storage is not viable or profitable.
Nordic American Tankers (NAT), Scorpio Tankers (STNG), and Navios Maritime Midstream Partners (NMM) are not eligible for any benefits through contango storage, as these companies do not have large tankers available on the spot market. Teekay Tankers (TNK) cannot be included, as the company fleet contains only one VLCC and a majority of Aframax and Suezmax tankers.
The top industry picks via the Guggenheim Shipping ETF (SEA) for the storage trade are DHT Holdings (DHT) and Navios Maritime Acquisition (NNA). The DHT company fleet includes seven VLCCs that are on spot market rates, while seven others are on time charter. Plus, the Navios Maritime Acquisition fleet includes four VLCCs on a floating rate and an additional three on time charter.