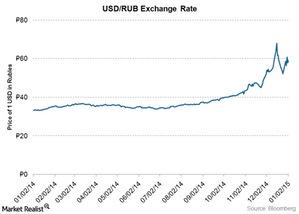 Contraction and a falling ruble magnify Russia's crisis
GDP contraction in Russia: A first since 2009
The GDP (gross domestic product) in Russia contracted for the first time since 2009 in November 2014. Consequently, the Russian ruble fell by about 14% against the dollar in November and by about 18% in December, continuing its slide and adding to Russia's woes. The Russian economy—already hit by sanctions from the West, plummeting oil prices (with oil exports forming the backbone of the economy), rampant inflation, and surging interest rates—now seems to be heading toward a recession.
Article continues below advertisement
Western sanctions virtually exclude Russian banks and corporations from international capital markets. These sanctions have affected the borrowing power of Russian companies. Moreover, the currency's weakness should eventually lead to even higher inflation, as imports will become expensive. This could negatively affect investments in Russia-focused exchange-traded funds like the VanEck Vectors Russia ETF Trust (RSX), the iShares MSCI Russia Capped Index Fund (ERUS), and the SPDR S&P Russia ETF (RBL).
A continued drop in oil prices could also be a negative for the United States Oil Fund (USO) and United States Brent Oil Fund (BNO).
Russia's debt could be downgraded to a junk rating
Prominent credit rating agencies S&P, Moody's, and Fitch all currently rate Russia one notch above junk.
While Russia's sovereign foreign debts are minimal, its state and private companies and banks have accumulated $600 billion in foreign debts. Of this debt, around $100 billion is due next year. With the sanctions from the West effectively shutting out Russian companies and banks from international capital markets, the Russian economy's ability to repay or roll over loans is restricted.
Recently, Standard & Poor's put Russia's sovereign credit outlook on a "negative credit watch." This means that it could be downgraded to junk if we see a continued rapid deterioration of Russia's monetary flexibility. The downgrade of Russia's rating to junk could come as soon as this month.