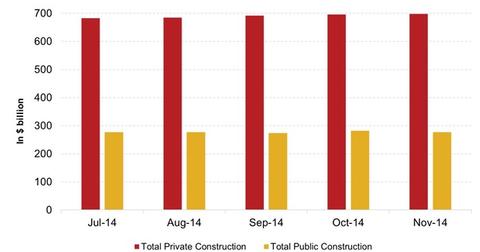 Where did construction spending rise and fall?
By David Ashworth

Updated
What's construction spending?
As the name suggests, construction spending shows how much money is being spent on new construction in the US. The monthly report segregates the overall spending into the public and private sector. It also segregates it among residential and non-residential construction. The report is released with a lag. The November reading was released in January.
Due to this lag, it isn't a market-moving report. Equities (SPY) (DIA) (IVW) and bond markets (TLT) (BND) don't pay much attention to this report. However, construction spending makes up ~20% of the gross domestic product, or GDP. It can give clues about the overall economic growth. Construction spending contracts early in case there's a recessionary phase in the economy. It also gains traction as conditions improve.
Article continues below advertisement
The November report
In November 2014, construction spending was estimated at $975 billion. This was a contraction of 0.3% from the revised October level. It was revised upwards. Although overall spending on homes was up 0.9% from October, it was still 0.6% lower than the level last year. Office construction saw decreased spending in November. It decreased 1.7% from the level in October. However, it was 14.7% higher than the level last year.
Private spending dwarfs public construction spending. It rose 0.3% over the revised October level. Home construction saw a rise of 0.9% month-over-month. This signified increased private spending on residences. However, it was still 0.5% lower than the level in November 2013.
Unlike private spending, public construction spending slowed in November. Spending was $277.3 billion. It was 1.7% lower than the level in October. While public spending on residences surged 3.5% in November 2014, it was still 5.4% lower than November 2013. Public spending on power was 13.8% lower in November—compared to October.
In the next two parts of this series, we'll look at how the Treasury bills, or T-bills, auctions fared last week.