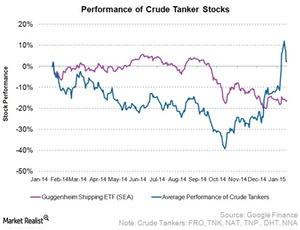 Company overview: DHT Holdings' fleet and business
By Katie Dale

Nov. 20 2019, Updated 2:49 p.m. ET
Company description
DHT Holdings (DHT) is an independent crude oil tanker company whose fleet consists mostly of VLCCs[1. very large crude carriers] and a few Suezmax and Aframax vessels trading internationally. It operates through integrated management companies in Oslo, Norway, and Singapore.
DHT's experienced business approach includes a focus on first-rate operations with quality ships built at quality shipyards and strong customer service. It has a prudent capital structure with robust cash break-even levels to accommodate staying power through business cycles. DHT maintains a high level of integrity and good governance through a combination of market exposure, fixed income contracts for the company's fleet, and a transparent corporate structure.
Article continues below advertisement
Fleet
DHT Holdings has a fleet of 20 VLCCs, which includes six VLCCs under construction at Hyundai Heavy Industries, subsequent to the acquisition of Samco. It also has two Suezmaxes and two Aframaxes as well as a 50% ownership in Goodwood Ship Management.
Relative performance
In the past three months, DHT recorded a 36.9% performance increase to date. Meanwhile, other crude tankers like Teekay Tanker (TNK), Nordic American Tanker (NAT), Frontline (FRO), and Tsakos Energy Navigation (TNP) recorded 62.8%, 45.3%, 108.1%, and 28.2% increases, respectively, in the same period. The Guggenheim Shipping ETF (SEA) also dipped 3.6% in this same period.
In this series, we'll take a look at the company's overview, fleet size, chartering of vessels, leverage levels, and analyst estimates.