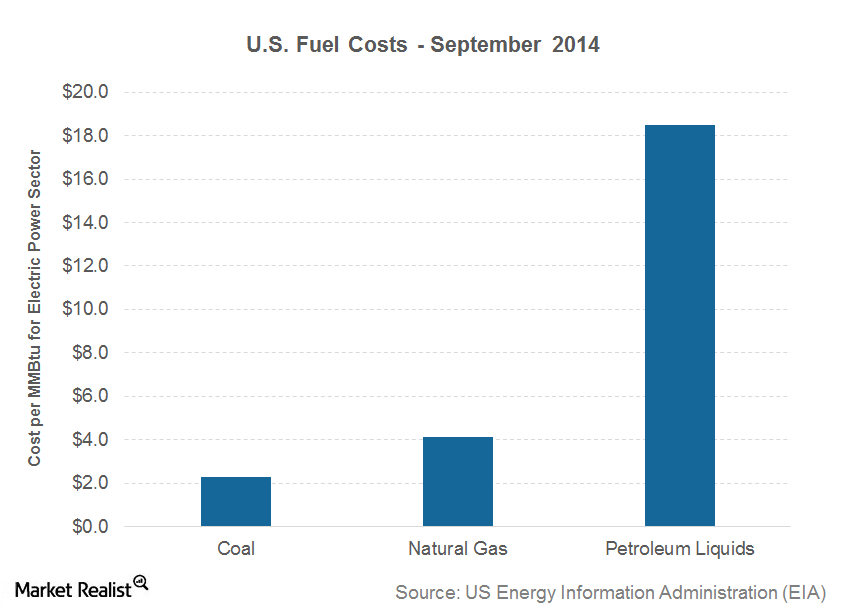 Coal-fired power plant vendors face opportunities
By Mike Sonnenberg

Jan. 15 2015, Updated 8:05 a.m. ET
The cheapest fossil fuel
The importance of coal in the global energy mix is on a decline due to the shale gas boom in the US and quest for cleaner energy. However, coal remains the cheapest fossil fuel available for electricity generation globally. According to the US Energy Information Administration, coal for electricity generation in the US cost $2.3 per million Btu (British thermal units) compared to $4.1 per million Btu for natural gas in September 2014.
Article continues below advertisement
Moreover, coal is available almost everywhere. So coal is the ultimate option for electricity generation where natural gas isn't available in great quantities. In these places, coal is even cheaper compared to natural gas. India and China are two prominent places where the threat to coal from natural gas is limited.
Growth to continue
Despite all the issues the coal industry is facing, global coal-fired capacities are expected to continue to increase—albeit at a slower pace. While China is diversifying its energy sources, it's still adding coal-fired power plant capacities—although at a much slower pace. India remains an attractive market for equipment manufacturers for coal-fired plants. India is expected to add another 150 GW coal-fired capacity over the next two decades. You can read more about India's power sector in the Market Realist series Is India a good opportunity for US thermal coal producers?
Article continues below advertisement
According to General Electric (GE), 782 gigawatts or GW of coal-fired capacity is expected to be added globally between 2013 and 2023. GE acquired Alstom (ALSMY) to strengthen its presence in steam turbines (primarily driven by coal-fired boilers). GE is part of the SPDR Industrial Sector ETF (XLI) along with other electrical equipment manufacturers like Emerson Electric (EMR) and Eaton (ETN).
Bottom line
While coal is slowly losing its steam in the developed world (especially in North America), coal remains the only economically viable option for power-hungry developing countries, especially in Asia. However, according to General Electric, growth in natural gas–based capacity will outpace coal-fired capacities over the next decade. You can have a look at the reasons why in the next part of this series.