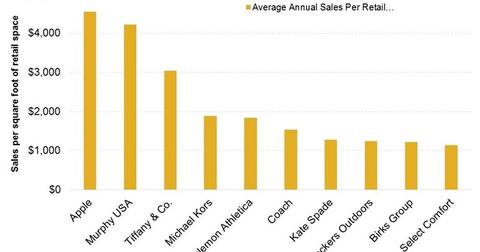 Coach Versus Kors: Strengths And Weaknesses On Balance
By Phalguni Soni

Updated
Coach's profitability versus peers
Despite going public as late as December 2011, Michael Kors (KORS) has a higher market cap than Coach, Inc. (COH). Its market cap is ~$14.4 billion, while Coach's is $10.6 billion.[1. January 8, 2015] Growth in KORS's share price is a result of exponential growth in revenues and profits.
Article continues below advertisement
The KORS advantage
KORS also has a 30% operating margin, one of the best in the industry. In comparison, Coach's margin is 20.8% and Lululemon Athletica's (LULU) is 24.6%.[2. trailing twelve months] Astonishingly, Coach's margin was 31.4% in fiscal year 2010.
KORS's average sales per square foot, a key retail industry metric, is the fourth-highest in the industry. At $1,886 per square foot, it lags only behind Apple (AAPL), Murphy USA, and Tiffany & Co (TIF). Coach, in comparison, averages $1,532 per square foot. But more importantly, KORS's sales per square foot are increasing, while Coach's are in decline mode. KORS's sales per square foot were only $685 in fiscal 2008.
KORS, TIF, AAPL, and COH are all part of the SPDR S&P 500 ETF Trust (SPY).
Where Coach trumps KORS
All may not be lost for Coach. One of its strengths is that it still enjoys a significant advantage in China, which is poised to become the second-largest luxury market by 2019, second only to the US. Chinese consumers are already the biggest spenders on luxury goods worldwide. And spending is expected to rise by 52% in real terms over the next five years, through 2019.[1. Source: Euromonitor International] For more on Coach's strategy in China, read Part 12 of this series.
Article continues below advertisement
Coach is also the number-one brand in premium imported handbags and accessories in Japan. At the same time, the company's rolling out a strategy to get traction in the European and Latin American premium markets. KORS is a newer brand and is concentrating its expansion efforts in Europe and China. But it's yet to be as big as Coach is in China.
KORS at risk
Overly rapid expansion could erode brand value for KORS if its logos and handbags become ubiquitous. This would affect its hotness and leave it vulnerable to the next best new company.
Lower price points and heavier discounts could also affect KORS's status as a premium brand. That's something Coach is currently addressing with its transformation plan, which features lower discounts and sales tilted toward higher-priced products.
Coach also has the edge in e-commerce, as you'll discover in the next article in this series.