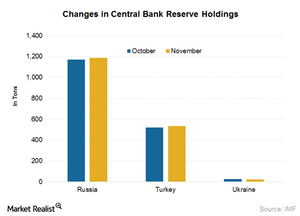 Why you should watch central bank gold reserves closely
By Anuradha Garg

Updated
Central banks' gold reserves
Central banks hold ~20% of all the gold that has ever been mined. The sheer holding size is why central banks around the world can significantly influence gold prices.
Central banks influence gold sales and purchases worldwide. In the process, they influence gold prices (GLD) as well as prices for gold stocks such as Goldcorp Inc. (GG), Barrick Gold Corp. (ABX), Newmont Mining Corporation (NEM), Kinross Gold Corporation (KGC), and Yamana Gold (AUY), as well as ETFs that invest in these stocks such as the Gold Miners Index (GDX).
Russia raises gold reserves
According to International Monetary Fund (or IMF) data released in December, Russia raised its gold reserves in November for the eighth month in a row. It raised its gold holdings by 18.75 tons to 1,187.49 tons. Part of the increase comes as Russia's central bank has been forced to step up buying from domestic producers hurt by Western sanctions following the Ukraine crisis.
Turkey also raised its gold holdings by 11.95 tons to 532.98 tons in November.
Ukraine sells gold 
Ukraine, on the other hand, cut its gold holdings by 2.48 tons to 23. 64 tons in November. This could be due to financial difficulties since it's deeply in debt for natural gas to Russia and is hugely dependent on international loans.
Overall, the trend points toward central banks buying gold in time of uncertainties. This should be positive for gold.