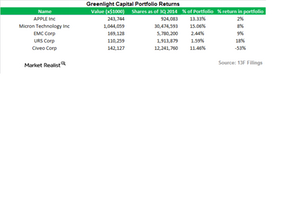 Civeo to cut costs, pursue additional revenue opportunities
Civeo's guidance reflects drop in demand for services
As discussed earlier in this series, company shares dropped at the end of December after Civeo Corporation (CVEO) provided a weak 2015 guidance. Lower crude oil and metallurgical coal prices have led to a decline in demand for the company's services in various markets. Civeo also expects to be negatively impacted by the continuing weakness in the Canadian and Australian dollars.
Civeo's main oil and mining customers include Canada's Imperial Oil (IMO), controlled by ExxonMobil (XOM), BHP Billiton (BHP), Vale (VALE), and Peabody Energy (BTU).
Article continues below advertisement
Civeo expects first-quarter 2015 revenues will be in the range of $160 million to $175 million, with EBITDA (earnings before interest, taxes, depreciation, and amortization) in the range of $45 million to $55 million. It expects second-quarter earnings to be sequentially lower as a result of the seasonal Canadian spring break up. Plus, earnings in the second half of 2015 are expected to be sequentially weaker "as certain contracts expire or are replaced with contracts with fewer committed rooms at lower rates, particularly in Australia, causing estimated occupancy and average daily rates to decline."
For all of 2015, revenues are expected to be in the range of $540 million to $600 million, with expected 2015 EBITDA in the range of $135 million to $160 million. Civeo also reiterates its 4Q14 guidance of $200 million to $210 million of revenues with an EBITDA margin of 32% to 34%.
Civeo's plans include additional revenue opportunities and cost cutting
Civeo said it plans to pursue additional revenue opportunities. These include entering into short-term accommodations agreements to augment contracted room revenue and maintain market share, and providing certain services to third parties for a fee. Civeo is also expected to benefit in 2015 from its recently completed McClelland Lake Lodge, the majority of whose rooms are under contract through the first quarter of 2017.
Article continues below advertisement
With the closure of unprofitable locations due to lower occupancy, 2015 operating costs are expected to fall by over 35% from 2014 levels in Canada and by more than 15% in Australia. The company expects 2015 capital expenditures to be in the range of $75 million to $85 million, a significant reduction compared to estimated 2014 capital expenditures of approximately $260 million to $280 million.
Activist investment gone wrong?
While JANA recently exited its stake, Greenlight Capital's activist position on Civeo (CVEO) in October was to push for the dismissal of Civeo's Chief Executive Bradley Dodson. It also suggested that Civeo should take on leverage to make its capital structure more appropriate for a real estate company.
Due to the activist's efforts, Civeo and JANA announced an agreement at the end of October last year to add three new independent directors. The board also agreed to form a value creation committee to review opportunities to enhance shareholder value.
However, due to rapidly declining oil prices, Civeo reported a significant operating shortfall. It also announced the firm will relocate to Canada without making any change to its capital structure.
Combined, the issues facing Civeo over the last three to four months have hit its stock price hard. And as a result, the portfolio holdings of Greenlight Capital and JANA partners have also been negatively affected.