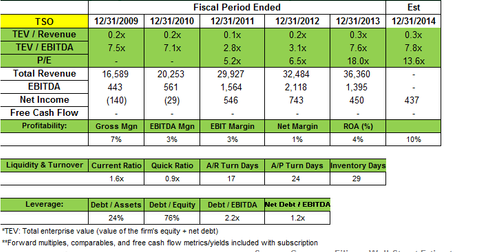 Citadel Advisors adds position in Tesoro Petroleum Co.
By Adam Rogers

Updated
Citadel Advisors and Tesoro Petroleum
Citadel Advisors' new stock purchases include Workday, Inc. (WDAY) and Liberty TripAdvisors (LTRPA). The hedge fund exited positions in United Rentals (URI) and Akron, Inc. (AKRX). Citadel Advisors also increased positions in Tesoro Petroleum Co. (TSO), Actavis Plc (ACT), Antero Resources Corp. (AR), and Anadarko Petroleum (APC). The firm decreased positions in Apple (AAPL), Citigroup (C), and Invesco Ltd. (IVZ).
Citadel Advisors increased its position in Tesoro Petroleum Co. by $218 million for 3Q14.
Article continues below advertisement
About Tesoro Petroleum
Tesoro Petroleum is a Fortune 100 company. It was founded in 1968. It's headquartered in San Antonio, Texas. The company has more than 7,000 employees. Tesoro is an independent company. It refines and markets petroleum products. It operates six refineries in the western US. Tesoro has a combined rated crude oil capacity of ~845,000 barrels per day, or bpd. Its operations extending across 18 states.
Its retail and marketing operations include gas stations and convenience stores under various brands. Through these operations, Tesoro sells its refined products in 17 states.
Tesoro's growth
As you can see in the above table, the enterprise value, or EV, grew by almost three times. EV is the approximate sum of a company's market capitalization and net debt. Its market capitalization grew by almost four times since 2010.
Tesoro's refining capacity increased by over 650 million barrels per day, or MMbbls/d, in 2010 to 850 MMbbls/d in 2014. During the four-year period, Tesoro's employee strength increased by almost 36%. It increased to 7,200 employees in 2014—from 5,300 employees in 2010.
3Q14 results beat estimates
Tesoro recorded net income of $396 million and EBITDA (earnings before interest, tax, depreciation, and amortization) of $840 million for 3Q14. The operating income for 3Q14 was $578 million. It was significantly higher. It was $128 million for the same period last year. At the end of the third quarter, the cash balance was strong. It was $1.5 billion.
Due to strong sales from the firm's ARCO network, ExxonMobil's retail branding program is expanding. This resulted in strong demand. Management stated that there were declining crude prices. The retail segment had a record performance.
The next part in this series will discuss Citadel Advisors increased position in Actavis Plc.