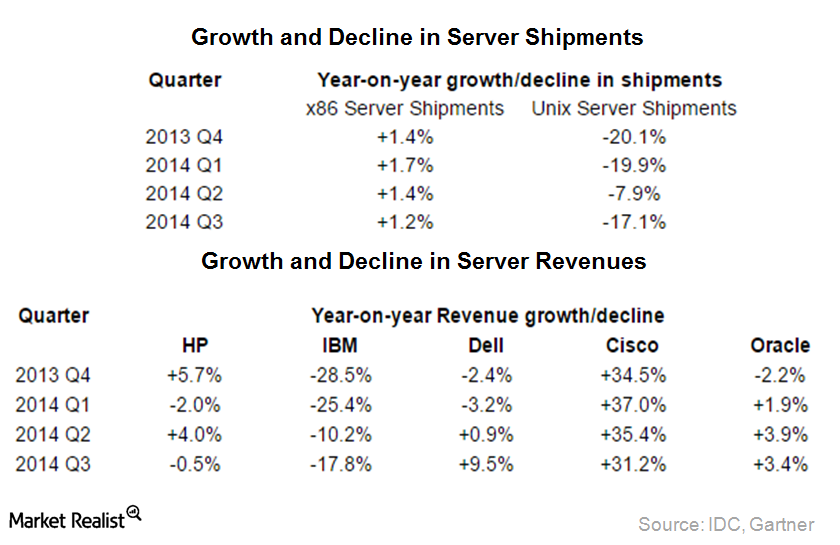 Cisco overtakes Oracle in the global server market
By Anne Shields

Jan. 2 2015, Updated 3:14 p.m. ET
Oracle loses its position to Cisco in server space
As mentioned in the earlier part of the series, Oracle's (ORCL) good quarterly results have been rewarded with a major jump in share price. This led Oracle's market cap to soar to $203 billion, and it became the fourth biggest technology company, replacing Intel (INTC). However, in the global server space, Cisco (CSCO) beat Oracle.
According to the IDC and Gartner, Hewlett-Packard led the $50 billion global server market in 3Q14. The company had a market share of 27%, followed by IBM (IBM) and Dell, both of which commanded 18% in this space. Cisco and Oracle held 6% and 4% market share, respectively.
Article continues below advertisement
Sun Microsystems acquisition marked Oracle's entry into the enterprise server space
Oracle acquired Sun Microsystems in 2010 and entered the enterprise server and storage hardware business, which together forms the company's enterprise hardware business. Through this acquisition, Oracle got hold of Sun Microsystems Java and Solaris-based software offerings. Instead of retaining its interest in low-margin x86 servers, Oracle reinvested Sun's proprietary reduced instruction set computing (or RISC) microprocessor to Unix platforms.
Unix-based servers are facing a decline in demand
As the above chart shows, shipments of RISC/Unix-based servers have witnessed a steady decline, while x86 servers have managed to register a marginal growth owing to better performance at lower prices. As a result, it has been difficult for Oracle to register growth in its server business.
Again as the above chart shows, while the leading players are struggling in the server market, Cisco has managed to achieve year-over-year (or YoY) growth of more than 30% in the last four quarters. Although Oracle has managed positive growth, it is nowhere near Cisco's growth. If Cisco continues to post such growth, Oracle's server business will lose even more of its market share to Cisco.