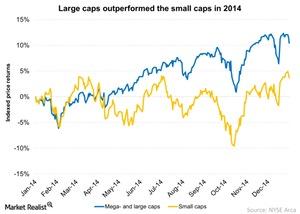 Why You Should Choose Mega And Large Caps Over Small Caps
By Russ Koesterich, CFA

Jan. 28 2015, Published 2:52 p.m. ET
Russ shares more evidence supporting the case for mega-cap stocks.
As I recently pointed out, despite mega caps' recent outperformance, the stocks remain cheap on a relative basis.
Article continues below advertisement
Market Realist – Mega caps outperformed small caps in 2014.
The graph above compares the price performance of mega and large caps with the price performance of small caps as tracked by the iShares S&P 100 Index ETF (OEF) and the iShares Russell 2000 Index ETF (IWM).
Mega and large caps outperformed small caps in 2014, with price returns of 10.4%. On the other hand, small caps gave price returns of 3.7%.
Despite the outperformance, mega and large caps could continue to outperform small caps.
Market Realist – Choose mega and large caps over small caps.
The second graph shows the relative valuation of mega- and large-cap stocks compared to small-cap stocks. It shows the PE ratio (price-to-earnings ratio) of small caps divided by the PE ratio of mega and large caps, as tracked by the S&P Small Cap Index and the S&P 100 Index, respectively.
Small caps are currently trading at 24.9x earnings. Large caps are comparatively cheap, at 17.0 times earnings. This is even cheaper than the S&P 500 (SPY)(IVV), which is trading at 19.3x earnings.
Small caps (RWM) are currently trading at almost a 47% premium compared to mega and large caps. This is a rather lofty premium, considering that bigger companies tend to be stabler and more resilient to global shocks, among other things. They're also more profitable compared to small caps at the moment. You'll find more on this later in this series.
Read on to learn why this premium isn't justified.