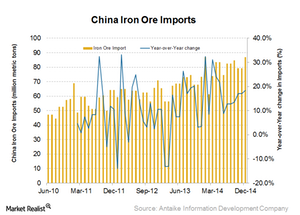 Why Chinese iron ore imports in December hit record high for 2014
Chinese iron ore imports
Chinese customs data track the country's iron ore imports. Tracking the data is important for investors since it gives a good sense of the appetite for imported ore among Chinese mills and traders that consume about two-thirds of seaborne iron ore.
This information impacts iron ore players involved in the seaborne iron ore trade, including Rio Tinto (RIO), BHP Billiton (BHP), Vale S.A. (VALE), and Cliffs Natural Resources (CLF). The SPDR S&P Metals and Mining ETF (XME) invests in this commodity, so it's equally affected by the data.
Chinese iron ore imports for December came in at 86.9 million tons, or 29% above the previous month. Imports are up 18.4% year-over-year. Imports for 2014 are 932.5 tons, which is a growth of 13.8% over 2013.
Restocking by Chinese steel mills helped imports. Li Wenjing, analyst with Industrial Futures in Shanghai, said, "Lower-cost iron ore resources overseas have led to surging imports and squeezed higher-cost domestic iron ore miners to shut down, and this trend will continue this year."
This shows that imported iron ore demand by steel mills is picking up.
Article continues below advertisement
There's still an oversupply of iron ore
While there's still an oversupply of iron ore in the system, sustained closures by high-cost mines in China and elsewhere can help revive the situation and save the day for the miners.
Chinese domestic iron ore is generally a lower-grade quality than imported ore. China's environmental regulations may force steel producers to rely more on high-quality imported ore to reduce the pollution caused by refining low-quality domestic ore.