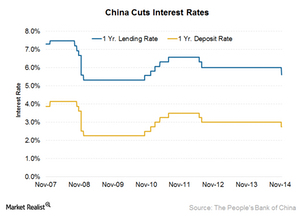 How does Chinese credit easing help iron ore names?
By Anuradha Garg

Dec. 4 2020, Updated 10:53 a.m. ET
In November, the People's Bank of China (or PBOC) cut one-year benchmark lending rates by 40 basis points to 5.6%. Then it lowered one-year benchmark deposit rates by 25 basis points. It did this mainly because of low factory growth and a cooling property market. In the same vein, China relaxed a major restraint on banks' abilities to use deposits to make loans.
Article continues below advertisement
Easing lending norms
At a closed-door meeting on December 24, officials at the PBOC told representatives from two dozen banks and other financial firms that the PBOC would allow them to include more money in their deposit bases. This would give them additional room to lend, according to banking officials familiar with the matter.
In the latest move, officials at the PBOC said the PBOC will relax how banks calculate the loan-to-deposit ratio, which is the major restraint on banks' lending abilities. Currently, Chinese banks can't lend more than 75% of their total deposits. But that calculation doesn't include large deposits from nonbank financial institutions such as asset managers and securities firms. Now, the PBOC will allow banks to add those deposits to their calculations of their loan-to-deposit ratios.
Analysts estimate the move is roughly equivalent to injecting 1.5 trillion yuan, or about $242 billion, into the banking system.
What's the impact?
The immediate impact of Chinese credit easing was seen as China's iron ore and rebar futures posted their strongest gains in three weeks. Hopes of further Chinese credit easing provided a lift to investor sentiment.
This measure along with sustainable measures will positively impact the steel industry. That, in turn, will help iron ore names such as Rio Tinto (RIO), BHP Billiton (BHP), Vale S.A. (VALE), and Cliffs Natural Resources (CLF). It will also affect funds investing in these stocks such as the SPDR S&P Metals and Mining ETF (XME).