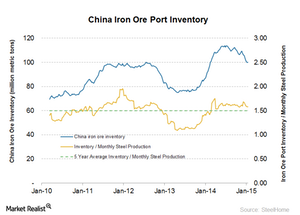 China's iron ore port inventory lowest in 11 months
China's iron ore port inventory
Iron ore port inventory is a key indicator that reflects the supply and demand balance. If steel mills continually demand iron ore, then inventory doesn't build up at the port.
However, if mills don't use up the shipments that are coming through the seaborne route, inventory piles up, which indicates a weaker final demand.
Article continues below advertisement
Inventories down
The SteelHome China Steel Price Index collects inventory data on a weekly basis from 44 ports in China. China's iron ore port inventory has been inching down each of the last six weeks.
Inventories for the week ended January 16 were 100.2 million tons. The figure is slightly higher than the previous month when inventories plunged below the 100-million-ton mark to 99.85 million tons.
This is similar to the inventory level in February 2014. Since then, inventories have been inching up due to weak end-user demand.
China's iron ore port inventory for the week ended January 16 was at levels 1.58 times those of November's steel production. This ratio is often preferred over raw inventory figures because it measures how much inventory is available in order to keep current steel production activity going. The five-year average ratio is 1.49 times the steel production figures.
Mills replenished holdings after prices fell and local output fell due to the winter.
Though these levels are elevated compared to historical numbers, they've started to come down slowly in recent weeks. Inventory levels above the long-term average suggest bad news for iron ore companies.
However, drawing down of inventories shows improving end-user demand, which is positive for iron ore companies, including Rio Tinto (RIO), BHP Billiton (BHP), Vale S.A. (VALE), and Cliffs Natural Resources (CLF). Also affected is the SPDR S&P Metals and Mining ETF (XME).