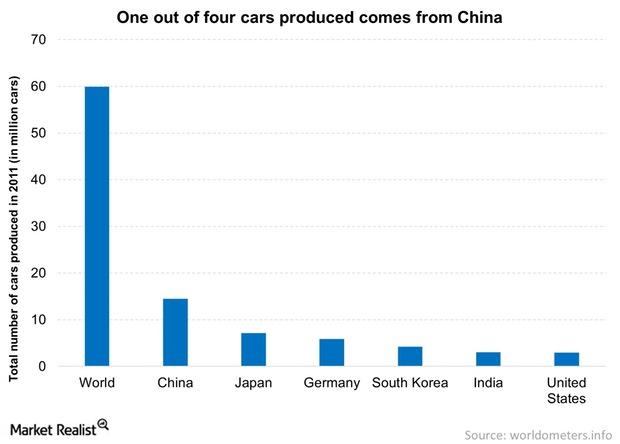 China Is Now The Largest Car Market In The World
By Russ Koesterich, CFA

Jan. 28 2015, Updated 9:05 p.m. ET
6. China is now the largest market in the world for cars, computers, mobile phones and countless other products. Wine sales in China, for instance, have more than tripled in just five years.
Article continues below advertisement
Market Realist – China has quickly become the largest market in the world for cars and electronics, among other things.
The graph above shows the major car producers in the world. China (FXI) has quickly jumped to number one in the world. It produced nearly 14.5 million cars in 2011. In other words, one out of every four cars made that year came from China.
China was the world's third-largest car market in 2006, behind Japan (EWJ) and Germany (EWG). But, it made up that deficit in just the next five years.
Major car producing firms such as Toyota (TM) have set up many plants in China. To some extent, these companies are dependent on the well-being of China.
And, China isn't just a major car market. It's also a leader in computers and mobile phones, as well as other electronics.
Tech companies (QQQ) in the US rely on steady growth in China. Apple (AAPL), for example, sells many of its iPhones in China. Many other multinational companies from different parts of the world are partly dependent on stable growth in China.
All the points cited above prove that most major economies in the world are highly intertwined with the goings-on in China, which is why a soft landing of the Chinese economy is needed.
In the last part of this series, you'll learn about at least one tailwind that's moving the Chinese economy in the right direction.