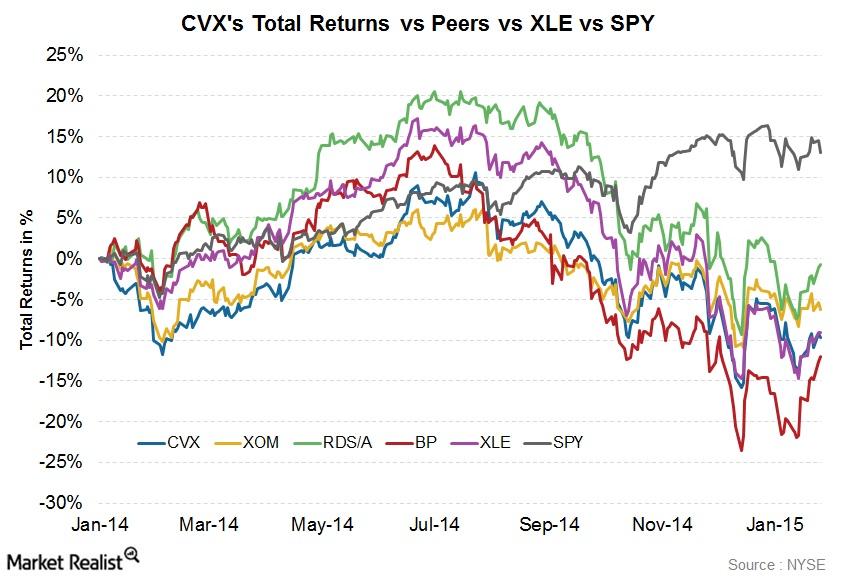 Chevron's total returns underperformed peers for much of 2014
Total returns
In this part of the series, we'll see how Chevron's total returns and stock performance compare to its peers'. Its peers include ExxonMobil (XOM), Royal Dutch Shell (RDS.A), and BP (BP). We'll also compare Chevron's total returns against the Energy Select Sector SPDR (XLE) and the SPDR S&P 500 ETF (SPY).
As the image above notes, for most of the first half of the year, Chevron underperformed Exxon, BP, XLE, SPY, and RDS.A. In the second half of the year, however, there were periods when ExxonMobil underperformed Chevron, as did BP.
BP had the lowest returns among the group in most of the second half. RDS.A had the highest returns during a considerable part of the year. However, its total returns fell as crude prices began to fall towards the end of the year.
XLE and Shell consistently outperformed Chevron, and before oil prices started falling, they even outperformed SPY.
Shell's total returns were still the highest in the post–crude oil drop scenario, while Exxon, XLE and Chevron had similar returns as the year came to an end.
BP's total returns declined the most, as the graph above notes. By the end of the year, most oil stocks posted negative total returns.
Article continues below advertisement