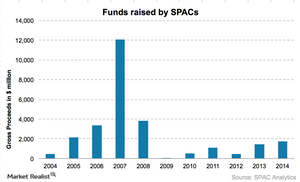 Chart Acquisition Corp. gets reduced stake in AQR Capital
By Diana Key

Jan. 23 2015, Updated 12:06 p.m. ET
Chart Acquisition Corp.
AQR Capital Management recently reduced its position in Chart Acquisition Corp. (CACGU). A 13G filing in December 2014 noted that the fund owns 1,477,575 shares of the company, down from the 2,880,525 shares reported in the 3Q14 portfolio. The filing notes the fund owns a passive stake of 15.15% in Chart Acquisition Corp.
Article continues below advertisement
Brief on Chart Acquisition Corp.
Chart Acquisition Corp. is a blank check company formed on July 22, 2011. A blank check company is created for the purpose of acquiring or merging with an operating business that is poised for continued growth. Blank check companies are also known as special purpose acquisition companies (or SPAC).
Government services acquisition
The management of Chart Acquisition Corp. evaluates opportunities within several sectors of the US government:
General: Defense, Security, Intelligence
Satellites, Communications, Terrestrial
Cyber Security, Cloud Computing
The target company criteria include:
an established company with a proven track record
$200–$500 million in revenue
capabilities to address technological change
strong free cash flow generation
strong competitive industry position
Chairman and CEO Joe Wright leads Chart Acquisition Corp. From 1982–1989, he served under President Ronald Reagan in the White House Office of Management and Budget as the deputy director, and then as the director. He served on three government advisory boards under President Barack Obama, President George W. Bush, and President Bill Clinton.
In December 2012, the company raised $75 million through its initial public offering (or IPO). As of September 30, 2014, the trust account held approximately $65 million.
Article continues below advertisement
Business combination with Tempus
On July 16, 2014, Chart Acquisition Corp. entered into definitive agreements to complete a business combination transaction with Tempus Intermediate Holdings (or Tempus Jets). Tempus Jets is a global diversified aviation services business that modifies, leases, and operates commercial aircraft for governments, corporations, and ultra-high-net-worth individuals.
At closing, Chart Acquisition Corp. will issue equity interests exchangeable for approximately 10 million shares of Chart's common stock to the equity holders of Tempus. It will also assume Tempus's liabilities. The expected purchase price is $140 million. The cash in Chart Acquisition's trust account will be used to fund any redemption by its public stockholders, as well as the payment of transaction fees and expenses. Any remaining cash will be used for working capital.
Chart Acquisition's board of directors unanimously approved this transaction. After the transaction closes, Chart will be renamed The Tempus Group, Inc., and listed on NASDAQ as TJET. Completion of the transaction is subject to approval by the company's stockholders and other closing conditions.
Chart Acquisition received its shareholders' approval to complete the transaction by March 13, 2015. The previous termination date was September 13, 2014.
According to US Securities and Exchange Commission (or SEC) regulations, if a blank check company is unable to complete an acquisition within 18 months after the effective date of the company's registration statement, the funds held in the trust or escrow account are returned to investors.
The latest data from SPAC Analytics indicated that last year, 12 blank check companies raised $1.75 billion, the highest level since 2008.
AQR Capital's 13G positions
According to AQR Capital Management's 13G filing, the fund initiated positions in Hemisphere Media Group (HMTV). AQR Capital also initiated positions in blank check companies Levy Acquisition Corp. (LEVYU) and Collabrium Japan Acquisition Corp. (JACQU).
AQR Capital reduced its positions in blank check companies Chart Acquisition Corp. (CACGU) and Capitol Acquisition Corp. II (CLACU).
In the final part of this series, we'll discuss AQR Capital Management's position in blank check company Capitol Acquisition Corp. II.