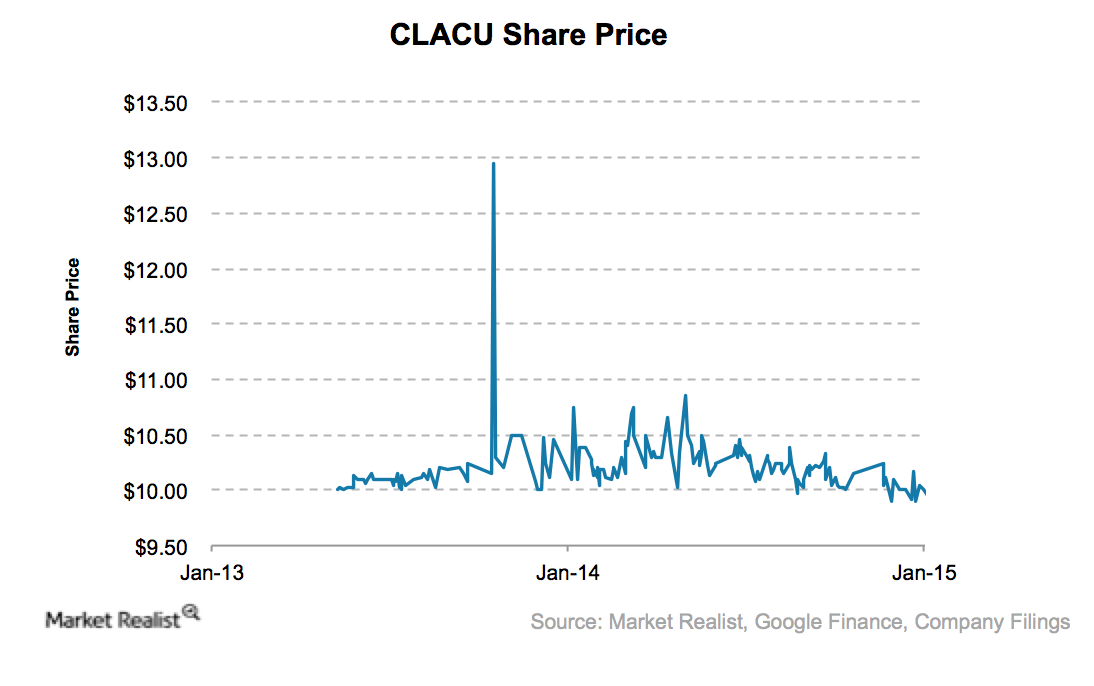 Capitol Acquisition Corp. II gets lowered stake in AQR Capital
By Diana Key

Jan. 28 2015, Updated 8:06 p.m. ET
Capitol Acquisition Corp. II
During 4Q14, AQR Capital Management lowered its position in Capitol Acquisition Corp. II (CLACU). A 13G filing in December 2014 noted that the fund owns 1,782,000 shares, down from the 2,672,900 shares reported in the 3Q14 portfolio. The filing noted that the fund owns a passive stake of 7.13% in Capitol Acquisition Corp. II.
Article continues below advertisement
Overview of Capitol Acquisition Corp. II
Capitol Acquisition Corp. II is a blank check company formed on August 9, 2010. A blank check company is a public investment vehicle formed to effect a merger, acquisition, or similar business combination with an entity that has an operating business. Blank check companies are also known as special purpose acquisition companies (or SPAC).
Success of Capitol I
In October 2009, Capitol Acquisition Corp. closed its business combination with Two Harbors Investment Corp. Capitol I noted, "Two Harbors immediately began conducting business as a real estate investment trust (or REIT) investing in residential mortgage-backed securities. Investors in Capitol I's IPO who held the stock through June 30, 2013, saw a total return of approximately 79.6%, while the S&P 500 index increased approximately 23.5% over the same time period, including dividends."
Article continues below advertisement
$200 million IPO
Capitol I closed its initial public offering (or IPO) on May 15, 2013, and sold 20 million units. Each unit consisted of one share of its common stock and one-half of one warrant. Each warrant entitled the holder to purchase one share of the company's common stock at $11.50 per half share. Net proceeds of $200 million were deposited in a trust account and will be used to fund the business combination.
Focused on growth acquisition
Capitol Acquisition Corp. II is focused on business, which provides significant opportunity for growth, as it will not be limited to a particular industry. It plans to leverage its management team's collective investing and operational experience in high-growth areas.
Chairman and CEO Mark D. Ein leads the management team. He has 21 years of private equity and venture capital investing experience.
For the quarter ending September 2014, Capitol II reported net a loss of $239,365. As of September 30, 2014, it had cash of $177,008, marketable securities of $10,001, and $200,001,829 in the trust account. The trust account earned $1,829 in interest. The company expects to use its cash for working capital and tax purposes.
According to US Securities and Exchange Commission (or SEC) regulations, if a blank check company is unable to complete an acquisition within 18 months after the effective date of the company's registration statement, funds held in the trust or escrow account are returned to investors.
AQR Capital's 13G positions
AQR Capital Management initiated positions in Hemisphere Media Group (HMTV). AQR Capital also initiated positions in blank check companies Levy Acquisition Corp. (LEVYU) and Collabrium Japan Acquisition Corp. (JACQU).
AQR Capital reduced its positions in blank check companies Chart Acquisition Corp. (CACGU) and Capitol Acquisition Corp. II (CLACU).