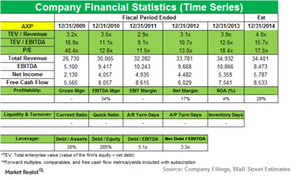 Bridgewater Associates starts new position in American Express
By Adam Rogers

Updated
Bridgewater Associates and American Express
Bridgewater Associates' new positions in 3Q14 include American Express (AXP) and United Parcel Service (UPS). Positions sold include ConAgra Foods, Inc. (CAG) and Carnival Corp. (CCL). The fund increased its position in United Technologies Corp. (UTX), Analog Devices (ADI), and CA, Inc. (CA). It decreased its stake in Intel (INTC), Microsoft (MSFT), and Ventas, Inc. (VTR).
The hedge fund started a new position in American Express. According to 13F filings for 3Q14, it accounts for 0.15% of the total portfolio.
Article continues below advertisement
About American Express 
American Express is a financial services company. It's headquartered in New York. It was founded in 1850. The company is best known for its credit card, charge card, and traveler's cheque businesses. American Express cards account for ~24% of the total dollar volume of credit card transactions in the US.
American Express was ranked by Business Week and Interbrand as the 22nd most valuable brand in the world. It had a brand estimate of over $14 billion.
Digital payment initiatives may drive growth 
American Express is concentrating on making an impact in the mobile payments segment. This will help sustain long-term growth. It will help the growth because of the recently launched OptBlue program. American Express also has the EveryDay Credit Card and ongoing merchant acquiring alliances—Uber, Apple Pay, and McDonald's.
American Express is also reducing its reliance on revolving credit and back-end fees to help the firm gain an advantage. This will help the company improve its overall risk profile.
American Express has also been named Canada's top travel reward credit card in four out of five categories.
Analysts are positive
Various analysts form investment banks and other research firms. They have been extremely positive about the company's the long-term growth. Expansion in merchant relationships could drive revenue and growth in the long term for American Express. Also, the improving economy and technological innovations will likely help its revenue and growth.
In addition to the increase in market penetration, brand recognition and merchant acceptance are helping American Express expand its list of network partners.
Its revenue grew at an annual rate of 6% since 2010. Its peers have seen revenue fall by 2%. The earnings per share, or EPS, for American Express also increased by 12.6% in 3Q14—compared to the same quarter in 2013.
The next part in this series will explore Bridgewater Associates' new position in United Parcel Service.