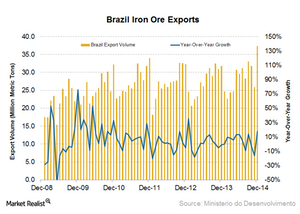 Why Brazilian iron ore exports had record increase in December
By Anuradha Garg

Updated
Brazilian iron ore exports
Brazil accounts for ~25% of the global market share of iron ore's trade volume. After Australia, it's the second-largest iron ore exporting country. Brazil is home to one of the largest mining companies, Vale S.A. (VALE).
Brazilian iron ore exports are thus a key metric for investors to watch, along with shipments out of Australia. These data are released on a monthly basis by MDIC (Ministério do Desenvolvimento, Indústria e Comércio Exterior), Brazil's foreign trade department.
Article continues below advertisement
Shipments surge in December
Vale S.A.'s (VALE) increased output is reflected in Brazilian iron ore exports for December. The volumes from Brazil surged to 37.39 million tons in December, which is a huge 44% month-over-month and 18% year-over-year increase. In comparison, November saw a decline of month-over-month shipments by 18.3% and a drop of 16.0% year-over-year.
Brazil exported iron ore at an average of $53.3 a ton in December, down from $100.80 a year earlier. The growing production from major producers such as BHP Billiton (BHP), Rio Tinto (RIO), and Vale S.A. (VALE) amid a growth slowdown in China contributed to this decline.
Impact on companies
Companies on the lower quartile in the cost curve, including BHP Billiton (BHP), Rio Tinto (RIO), and Vale S.A. (VALE), benefit from an increase in volumes. This, however, leads to a decrease in overall iron ore realized prices, which is negative for their cash flows.
A decrease in prices due to a supply glut negatively impacts other producers such as Cliffs Natural Resources (CLF). It also negatively impacts ETFs that invest in these companies, such as the SPDR S&P Metals and Mining ETF (XME).