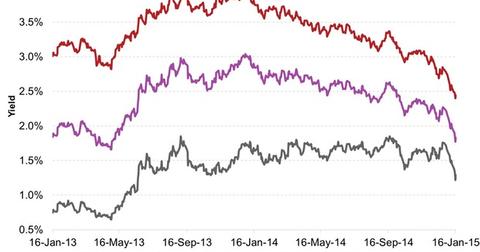 The bottom fell out of the 30-year Treasury bonds' yield
By David Ashworth

Updated
In the abyss
The US Treasuries' yield curve isn't a curve anymore—it's flat. This happened because the yield on longer-term securities, especially 30-year Treasury bonds, or T-bonds, came down significantly in 2014. Also, it hasn't reached its bottom yet. It's still falling.
Article continues below advertisement
Why is this news?
Long-term securities are influenced by market participants' inflation expectations. If market participants are expecting inflation to remain low, yields on long-term bonds will follow suit. A lower inflation rate will deter the US Federal Reserve from raising the federal funds rate. This will keep Treasuries (TLT) (IEF) popular.
However, if the economy starts to deflate or experience a fall in prices, it will affect consumer spending. Consumer spending accounts for nearly 70% of the US economic output. A slowdown in consumer spending will affect companies' profits—like Proctor & Gamble (PG) and Amazon.com (AMZN). It will also affect ETFs—like the Consumer Staples Select Sector SPDR Fund (XLP) and the Consumer Discretionary Select Sector SPDR Fund (XLY).
Lower yields are also a result of high demand for Treasury securities. The global outlook remains uncertain. This isn't good for economic growth and equities. Although most US indicators look good right now, a weak global economy will have a negative impact on them as well. As a result, the economy may require more federal support. Basically, this is more of what we've seen since the Great Recession.
Article continues below advertisement
Is the US alone?
No, the US isn't alone. Yields on long-term government securities fell across countries. Germany's 30-year bond yield was at 1.15% on January 16. It was down 150 basis points, or bps, from a year ago. Japan's 30-year bond yield was at 1.08%. Switzerland's 30-year bond yield was at 0.60%. For the US, the 30-year T-bonds' yield was at 2.44% on the same date. Due to this differential between the US and other developed economies' government bonds, the demand for US T-bonds is still high. Higher demand will drive yields down more.
Crude prices hurt
For now, the Fed's policymakers think that crude prices won't depress inflation in the long run. However, with all of the weakness around, low crude oil prices have been hurting inflation expectations more. This is driving yields down more on the long bond. As a result, we could see record lows for the 30-year bond yield.
In the next part of this series, we'll look at how investors reacted to the 30-year T-bonds auction last week.