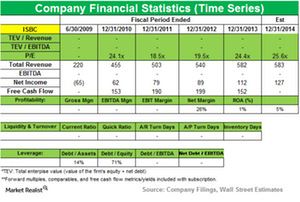 Blue Harbour lowers stake in Investors Bancorp
By Samantha Nielson

Jan. 20 2015, Updated 11:52 p.m. ET
Investors Bancorp position
Clifton S. Robbins's Blue Harbour Group disclosed a lower stake in Investors Bancorp Inc. (ISBC) via an amendment to a 13D filing earlier this month. The fund revealed that it owns 6.9% of ISBC with 24,603,300 common shares. This is down from the 26,617,620 shares held previously. Blue Harbour had boosted its position in ISBC during the third quarter of 2014.
Article continues below advertisement
Overview of Investors Bancorp
Investors Bancorp is the holding company for Investors Bank, which operates from corporate headquarters in Short Hills, New Jersey. ISBC attracts deposits from the public through its branch network and borrows funds from wholesale markets to originate loans and invest in securities.
Investors Bancorp originates one- to four-family residential mortgage loans secured by the following loan types:
one- to four-family residential real estate loans
multi-family loans
commercial real estate loans
construction loans
commercial and industrial loans
consumer loans
Residential mortgage loans represented $5.7 billion or 43.6% of ISBC's total loans in 2013.
Recent reorganization
In May 2014, Investors Bancorp reorganized into a new stock holding company and launched a second-step offering of new shares of common stock. Under the conversion plan, the company's New Jersey-chartered, mutual holding parent company Investors Bancorp, MHC, undertook a second-step conversion and ceased to exist.
Investors Bancorp reorganized from a two-tier mutual holding company structure to a fully public stockholding company structure. The conversion aimed to create "greater flexibility to continue capital initiatives such as organic growth, acquisitions, dividend payments, and share repurchases that create value for shareholders."
3Q14 profit and net interest income
For the third quarter of 2014, Investors Bancorp reported net income of $39 million compared to net income of $29.3 million for 3Q13. Basic and diluted earnings per share was flat at $0.11. The results beat analyst estimates.
Net interest income increased 24.8% to $137.8 million from $110.4 million for 3Q13. The increase was primarily due to growth in the average balance of interest-earning assets to $16.84 billion and a three-basis-point decrease in the company's weighted average cost of interest-bearing liabilities.
Total assets increased by $2.21 billion or 14.1% to $17.83 billion, up from $15.62 billion in 4Q13. The company also declared a cash dividend of $0.04 per share.