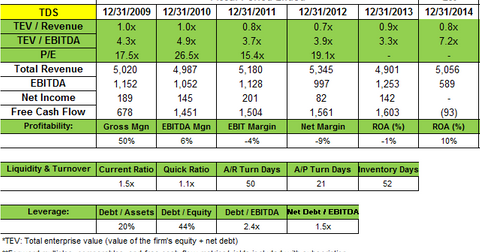 Blue Harbour eliminates position in Telephone and Data Systems
By Samantha Nielson

Updated
Exit from Telephone and Data Systems
Blue Harbour Group exited a position in Telephone and Data Systems Inc. (TDS) during the third quarter, which ended in September. The position accounted for 1.30% of the fund's total 2Q14 portfolio.
Article continues below advertisement
Overview of Telephone and Data Systems
Telephone and Data Systems, Inc., is a diversified telecommunications company with wireless operations. As of September 30, 2014, the company was providing services to approximately 4.7 million wireless customers and 1.2 million wireline and cable connections.
TDS owns 84% of United States Cellular Corp. (USM), its subsidiary. US Cellular carries out TDS's wireless operations. TDS provides wireline services, cable services, and HMS (hosted and managed services) through its wholly-owned subsidiary, TDS Telecommunications Corp.
Third-quarter results for TDS
TDS posted losses for the second quarter of 2014. Revenue fell at subsidiary USM due to industry competition, a declining average customer base, and the related effects of service plan pricing.
However, the company's 3Q14 results showed a slight improvement. Third-quarter revenue grew 8% year-over-year to $1.280 billion. Net loss and related diluted loss per share were $116.0 million and $1.07, respectively, compared to $9.5 million and $0.09, respectively, in 3Q13.
Revenue at USM grew slightly. The TDS subsidiary saw retail customer net additions of 50,000 in 2014 compared to net losses of 71,000 in 2013.
In the postpaid category, USM saw net additions of 52,000 in 2014, compared to net losses of 60,000 in 2013. USM postpaid results improved due to enhanced device offerings and effective pricing, promotion, and retention programs.
In a statement, TDS noted that "Growth in both data use and the adoption of equipment installment plans drove a 7% increase in total revenues, though margins remained under pressure from higher smartphone subsidies."
TDS Telecom revenue increased 19% to $806.4 million in 2014. The acquisitions of Baja Broadband, BendBroadband, and MSN Communications drove this growth.
Article continues below advertisement
Downgrade by Moody's
In November, Moody's downgraded TDS due to "Moody's view that additional debt will be incurred by USM to fund the growth of the business and to purchase additional spectrum." Moody's highlighted the high competition faced by USM, saying "We believe that USM's lack of scale, even with crisp execution, will limit the company's ability to significantly improve its margins and thus materially grow earnings and cash flows over the next few years." The agency further noted that "USM had endured 18 consecutive quarters of postpaid subscriber losses amid heightened competitive activity (when it did not have the ability to offer its customers the iPhone) and execution mistakes (complications during the billing system conversion) before the most recent quarter (3Q14), when it added 52,000 postpaid subscribers."
Blue Harbour's positions via 13F and 13D filings
During 3Q14, Blue Harbour Group added new positions in Blackhawk Network Holdings Inc. (HAWK), CommVault Systems Inc. (CVLT), and Juniper Networks Inc. (JNPR). The fund exited a position in Urban Outfitters Inc. (URBN).
Positions that underwent change via 13D amendments include CACI International Inc. (CACI), the Babcock & Wilcox Company (BWC), and Investors Bancorp Inc. (ISBC).
The next part of this series will discuss Blue Harbour's 13D amendment concerning CACI International Inc. (CACI).