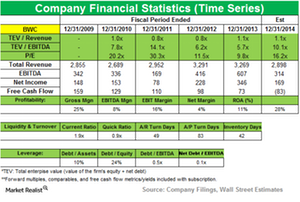 Blue Harbour adds to Babcock & Wilcox stake
By Samantha Nielson

Jan. 23 2015, Updated 11:11 a.m. ET
Babcock & Wilcox position
Clifton S. Robbins's Blue Harbour Group disclosed a higher stake in the Babcock & Wilcox Company (BWC) via an amendment to a 13D filing on November 10, 2014. The fund revealed that it owns 8.6% of BWC with 9,141,502 common shares. According to Blue Harbour's 3Q14 13F, the fund's position in BWC accounted for 7.96% of the total third-quarter portfolio.
In a 13D filing in May 2014, Blue Harbour had revealed an activist 6% stake in BWC. According to reports, the fund's executives believed that Babcock's shares were "undervalued." Apparently, management was open to making decisions that could unlock further value.
Article continues below advertisement
Overview of Babcock & Wilcox
The Babcock & Wilcox Company is a leading technology innovator in power generation systems, a specialty constructor of nuclear components, and a premier service provider. The company's operating history dates back more than 145 years.
BWC offers a variety of products and services to customers in the power and other steam-using industries. Clients include electric utility companies and other power generators; the US government; and industrial customers in various other industries. The company operates in five business segments:
Power Generation
Nuclear Operations
Technical Services
Nuclear Energy
mPower, BWC's small modular nuclear reactor business
The US government is the primary customer of BWC's Nuclear Operations and Technical Services segments.
Spin-off of Power Generation business
Shares went up in October after BWC had said that it was evaluating the separation of its Power Generation and Nuclear Operations business segments into two publicly traded companies. In November, BWC announced a tax-free spin-off of its Power Generation business to BWC shareholders. The separation aimed to create "two independent, publicly traded companies equipped with the resources, strategic autonomy, and financial flexibility to enhance long-term shareholder value."
Article continues below advertisement
BWC's 3Q14 results
Consolidated revenues for the third quarter totaled $737.9 million, a decrease of 4.8% compared to $774.8 million in consolidated revenues for 3Q13. GAAP (generally accepted accounting principles) earnings per share increased by $0.03 to $0.57 for the third quarter of 2014 compared to $0.54 for the prior-year period.
Revenue in the Power Generation segment was down 5.8% year-over-year, but it was 22.8% higher sequentially. BWC said the year-over-year decrease was mainly due to timing, the level of activity related to new build steam-generation system projects, and lower revenue from the new build environmental equipment business.
Other Blue Harbour positions
In 3Q14, Blue Harbour Group added new positions in Blackhawk Network Holdings Inc. (HAWK), CommVault Systems Inc. (CVLT), and Juniper Networks Inc. (JNPR). The fund exited positions in Urban Outfitters Inc. (URBN) and Telephone and Data Systems Inc. (TDS).
Positions that underwent change via 13D amendments include CACI International Inc. (CACI) and Investors Bancorp Inc. (ISBC).
The next part of this series will discuss Blue Harbour's position change in Investors Bancorp Inc.