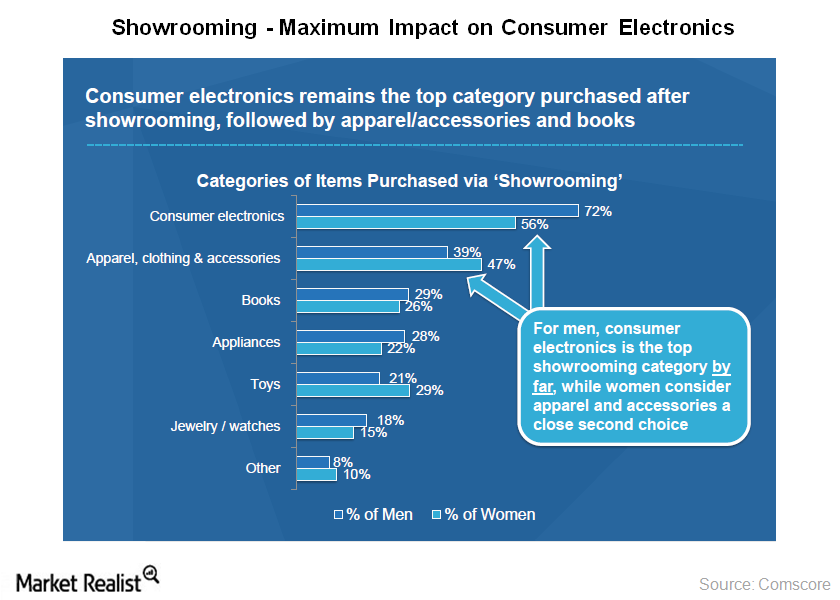 Best Buy put off by showrooming, guarantees low price
By Sirisha Bhogaraju

Jan. 21 2015, Updated 8:33 a.m. ET
Showrooming and consumer electronics
Showrooming is what happens when you inspect a product in a showroom and then buy it later from an online retailer. The practice is a major threat to bricks-and-mortar retailers including Best Buy (BBY), Wal-Mart Stores (WMT), Target (TGT), and RadioShack (RSH). Consumer electronics retailers such as Best Buy are part of the Consumer Discretionary Select Sector SPDR Fund (XLY).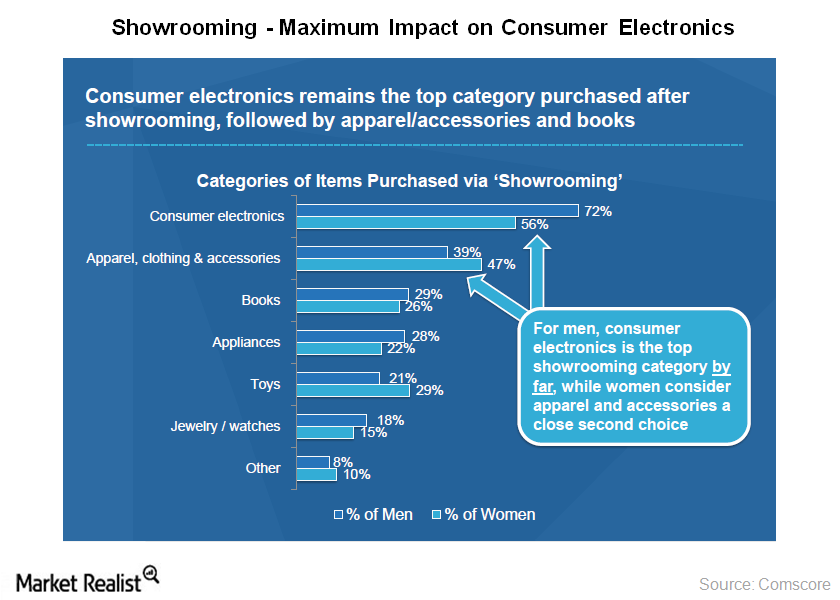 A survey conducted by Comscore reveals that showrooming is more common in the consumer electronics trade than in any other product category including apparel, books, and appliances. The study finds that 72% of men surveyed and 56% of women showroomed for consumer electronics the most.
Article continues below advertisement
Why people opt to showroom
Consumers engage in showrooming to have a closer look at a product's features before buying it online for a lower price. Home delivery, online discounts and rewards, as well as convenience are some other reasons that drive a consumer to showrooming. Comscore's survey shows that more than seven out of ten consumers opt for showrooming because they can get better prices online. Also, four out of ten consumers plan to buy the product online from the outset, but just want to see it up close before ordering it.
Best Buy combating showrooming
In February 2013, Best Buy announced that it would fight showrooming by offering low-price guarantees online as well as at its retail stores. The company guaranteed it would match the price offered by all local retailers and 19 major online retailers including Amazon.com (AMZN), Apple, Dell, HP, Sears, Staples, and Wal-Mart.
In October 2013, Best Buy spent millions of dollars on a holiday TV campaign to combat showrooming. The campaign, which featured celebrity storytellers Will Arnett, LL Cool J, Maya Rudolph, and Jason Schwartzman invited customers to Big Buy's showrooms.
In the next part of this series, we'll examine the company's performance in the third quarter of fiscal 2015.