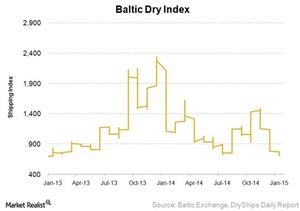 Baltic Dry Index – Why December dipped in red
By Katie Dale

Updated
Batic Dry Index
The Baltic Dry Index, or BDI, measures the price of transporting dry bulk. It's a combination of rates for different ship sizes. It factors in the average daily earnings of Capesize, Panamax, Supramax, and Handysize dry bulk transport vessels.
Article continues below advertisement
Performance for December to January
From December 2014 until January 21, 2015, the BDI recorded a significant decrease of 32.3% in trading—from 1,137 to 770 at the beginning of December. On a year-over-year, or YoY, basis, the index declined by 43.8%.
In December alone, the index recorded a 31.2% drop. It had a consecutive 20-day streak of losses—the longest since August 2012. Basically, the index is driven by Capesize vessels. They were unemployed for a long time. There was an excess supply of the vessels.
In the dry bulk shipping segment, the shipping dynamics indicate that supply determinants are overpowering demand. This pulls prices lower. Any increased demand from Asia won't be able to significantly push dry bulk rates back up to their nominal historic rates. The industry needs to address excess supply in the existing fleet. It also needs to address the swollen orderbook. The orderbook is set to bring additional capacity online.
Outlook
Looking ahead, industry analysts are forecasting that the index will continue to fall in 2015. The outlook for 1Q15 is bleak. China's PMI (purchasing managers' index) is adding to the woes. We'll discuss this in the next part of this series.
The current rates are near multiple-year lows. They caused ship owners to make some harsh decisions. A Norwegian shipbroker commented that the shipping market is at a level where it can't fall much more.
The markets' recovery could be months or years away. However, with the companies' currently low prices, it provides an opportunity for investors and potential acquisitions.
Companies—like DryShips Inc. (DRYS), Diana Shipping Inc. (DSX), Navios Maritime Partners LP (NMM), Navios Maritime Holdings (NM), and Safe Bulkers, Inc. (SB)—and the Guggenheim Shipping ETF (SEA) will likely benefit.