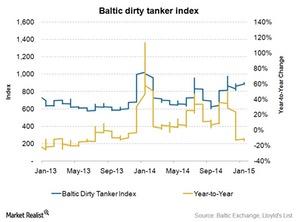 Baltic Dirty Tanker Index widens in January
By Katie Dale

Nov. 21 2019, Updated 1:30 p.m. ET
Baltic Dirty Tanker Index
In order to ascertain revenue and earnings potential for the crude oil shipping industry, analysts and money managers follow the Baltic Dirty Tanker Index (or BDTI). The year-over-year growth numbers of the index have a significant impact on companies like Tsakos Energy Navigation (TNP), Frontline Ltd. (FRO), Teekay Tankers (TNK), Nordic American Tanker (NAT), DHT Holdings (DHT), and the Guggenheim Shipping ETF (SEA).
Article continues below advertisement
December statistics
The Baltic Dirty Tanker Index widened to 862 on December 24, 2014, from 833, its December 2 closing level, recording a 3.5% increase. On a year-over-year basis, the index recorded a 13.5% decrease from 997 on December 24, 2013. As of its closing on January 7, 2015, the index stands at 884, compared to $1,014 on January 7, 2015.
The movement of the Guggenheim Shipping ETF is significantly associated with the Baltic Dirty Tanker Index, as oil and gas storage and transportation make up 36.8% of the ETF's holdings.
Outlook
Analysts say lower crude prices make oil purchases attractive, triggering stockpiling and increased demand for tanker vessels. Also, demand for crude oil is generally higher during the winter. While this bodes well for the shipping industry, this could also be a temporary phenomenon. Increased crude supply should affect the shipping industry in the days to come, which may put freight rates under pressure. However, oil demand growth may subdue the effect of excess supply.