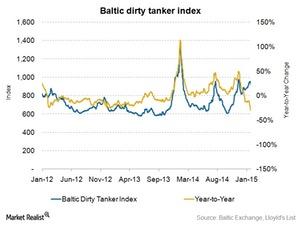 Why the Baltic Dirty Tanker Index dipped with falling crude
By Katie Dale

Updated
Baltic Dirty Tanker Index
Analysts and money managers follow the Baltic Dirty Tanker Index in order to assess the crude oil shipping industry's revenue and earnings potential. How the Baltic Dirty Tanker Index performs—especially its year-over-year, or YoY, growth—is one factor that has significant implications for companies like DHT Holdings Inc. (DHT), Frontline Ltd. (FRO), Teekay Tankers Ltd. (TNK), and Nordic American Tanker Ltd. (NAT).
The index's performance also impacts the Guggenheim Shipping ETF (SEA).
December–January trend
Article continues below advertisement
The Baltic Dirty Tanker Index widened to 917 on January 23, 2014—from 833 on December 1, 2014. It recorded a 10.1% increase as falling crude oil prices led to surging shipments. On a YoY basis, the index recorded a 26.2% decrease from 1,243 on January 23, 2013. The Baltic Dirty Tanker Index is connected to the Guggenheim Shipping ETF.
Market sentiment
Falling crude oil prices encouraged shipment volumes. This drove the Baltic Dirty Tanker Index higher from its earlier lows.
Looking ahead, MIDF Investment Research expects that the index will trend higher due to continued weakness in crude oil prices. This encourages seaborne trade activity. Also, a colder-than-expected winter season in the Northern Hemisphere could create a situation similar to the end of 2013 and early 2014 when the index soared to record highs. The US reached a breakthrough in legislature. It allowed the export of crude oil for the first time in almost four decades.