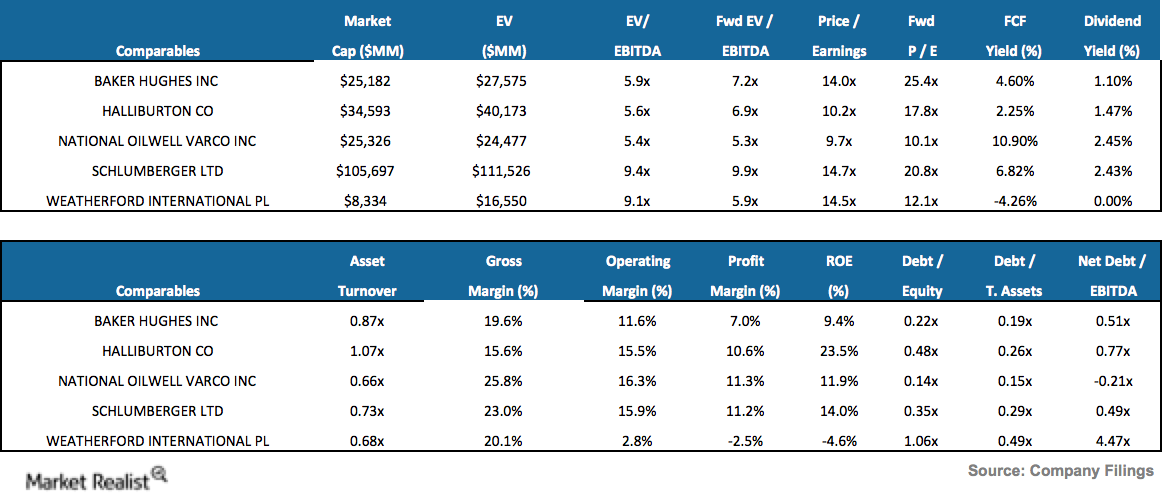 How does Baker Hughes stack up against its industry peers?
ValueAct discloses activist position in Baker Hughes
Activist hedge fund ValueAct Capital declared a 5.1% stake in Baker Hughes (BHI). In the previous parts of the series, we discussed Baker Hughes, its performance objectives, 4Q14 and full-year 2014 results, and its business segments. We also learned about the Baker Hughes-Halliburton deal, BHI's job cut announcement, and how BHI is creating value for its shareholders. In this part of the series, we'll take a look at how Baker Hughes stands against its main competitors.
Article continues below advertisement
Baker Hughes versus its competitors
Baker Hughes's industry competitors include Halliburton (HAL), National Oilwell Varco (NOV), Schlumberger (SLB), and Weatherford International (WFT).
Baker Hughes's EV-to-TTM-EBITDA (enterprise value to trailing twelve months earnings before interest, tax, depreciation, and amortization) is at a middle range compared to its rivals. SLB and WFT have EV-to-TTM-EBITDA over 9.0x, while BHI, HAL, and NOV are in the range of 5.4x to 6.0x.
Baker Hughes's PE (or price-to-earnings ratio) is higher than HAL's and NOV's PE, but lower than SLB's and WFT's PE. The company's gross margin, operating margin, and profit margin are low compared to the majority of its competitors.
As of December 31, 2014, Baker Hughes has debt of $4.1 billion. The company's debt-to-equity ratio is lower than that of most of its competitors.
Analyst ratings for Baker Hughes
Barclays and KeyBanc initiated coverage of BHI on January 8. According to Barclays, BHI is "overweight" and it has set a price target of $65 for the company. KeyBanc gave Baker Hughes a "hold" rating.
2015 won't be a good year for Baker Hughes and the oilfield service industry. It will be interesting to see how Baker Hughes and its peers manage their businesses in the midst of all the challenges.